The Mouseketeers at Walt Disney World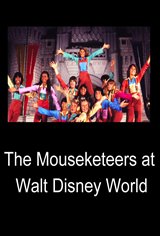 ---
This TV movie follows the Mouseketeers, who go to Walt Disney World as part of their official responsibilities, but also for a vacation. First, right before a press conference, they fall into water. Then their handler, Mr. Brown (Ronnie Schell) decides to take them camping for the night at Fort Wilderness, but when Nita is blamed for the tents disappearing at night, she runs away to Magic Kingdom.

After hearing about Nita's disappearance, the other Mouseketeers feel bad and decide to go find her to apologize. When Nita is found by a journalist, Miss Osborne (Jo Anne Worley), they have a talk and Nita learns that her friends didn't really mean what they said. She forgives her friends and the show goes on as the group gives a performance at Cinderella's Castle.
Complete with original TV commercials. Mouseketeers Lisa Whelchel and Julie Piekarski went on to star on the hit TV sitcom The Facts of Life. Youngest Mouseketeer Mindy Feldman is the older sister of former child star Corey Feldman.
Canadian Connection : Mouseketeer Curtis Wong was born in Vancouver.
| | |
| --- | --- |
| Director: | John Tracy |
| Studio: | Walt Disney Productions |
| Cast: | Billy Atmore, Scott Craig, Nita DiGiampaolo, Mindy Feldman, Ronnie Schell, Angel Florez, Allison Fonte, Kelly Parsons, Julie Piekarski, Jo Anne Worley, Lisa Whelchel, Curtis Wong, Shawnte Northcutte, Todd Turquand |
| Writer(s): | Tom Adair, Tedd Anasti, David Talisman |