The Old Dark House (1932)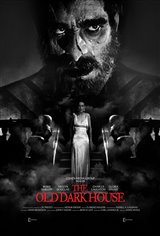 ---
It's a wildly varied group that takes shelter from a raging English storm in the forbidding mansion of the Femm family.
Among the reluctant guests are stuffed-shirt Philip Waverton (Raymond Massey): Philip's sensitive wife Margaret (Gloria Stuart); their mutual friend, disillusioned war veteran Roger Penderell (Melvyn Douglas); vulgar self-made millionaire Sir William Porterhouse (Charles Laughton); and Porterhouse's no-better-than-she-ought-to-be lady friend Gladys DuCane (Lillian Bond).
Under the baleful eyes of ungracious, atheistic host Horace Femm (Ernst Thesiger) and Horace's religious-zealot sister Rebecca (Eva Moore), the group sits around conversing, slowly coming to the realization that first impressions are most deceiving.
Normally, that would be the whole story-except that the old dark house houses a deep dark secret involving 101-year-old Sir Roderick Femm (played by John Dudgeon, actually an actress named Elspeth Dudgeon) and pyromaniac Saul Femm (Brember Wills).
Lumbering ominously throughout the proceedings is top-billed Boris Karloff, playing Morgan, the mute, alcoholic family butler (the opening credits felt obligated to tell 1932 filmgoers that yes, this was the same Karloff who'd portrayed the Monster in the previous season's Frankenstein).
Directed with sinister verve by James Whale and brimming with unforgettable dialogue, The Old Dark House is one of the most enjoyable and least formularized of the Universal scare pictures of the early 1930s. The film was based on J. B. Priestly's Benighted, though Priestly's hero dies in the book and does not in the film (this appears to have been a last-minute decision--and a wise one).
Long thought lost, The Old Dark House was rediscovered in the early 1970s; copyright problems with the lukewarm 1963 remake kept it off television until 1994, at which time a sparkling new print was struck, replacing the washed-out dupes with which film buffs were all too familiar.
| | |
| --- | --- |
| Director: | James Whale |
| Producer(s): | Carl Laemmle Jr. |
| Cast: | Charles Laughton, Gloria Stuart, Boris Karloff, Ernest Thesiger, Melvyn Douglas, Lilian Bond, Eva Moore, Brember Wills, Elspeth Dudgeon |
| Writer(s): | Benn Levy |