The Ripper (Netflix)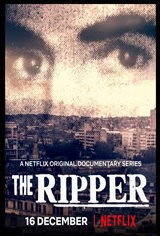 | 2 votes and 1 Reviews
Write a Review
| | |
| --- | --- |
| Netflix: | December 16, 2020 |
---
Investigators and witnesses recall how a modern-day Jack the Ripper terrorized the north of England, killing 13 women during a five-year period between 1975 to 1980 in this crime docuseries that takes viewers inside the Yorkshire Ripper investigation.
The Ripper also tried but failed to killed seven other women and once it became clear that there was a serial killer brutally attacking and murdering women, he gained his nickname from the infamous Jack the Ripper, who committed similar crimes in London in the 1880s, but whose identity was never uncovered.
As with Jack the Ripper, the victims of these more recent crimes were believed to be prostitutes. The public was initially told that they were not in any danger. When more women were killed and they were not prostitutes, the public became angry, especially as years passed and the police had no leads. The public began to fear that the killer would never be caught. And when he was, it was someone who was on their radar the entire time.
Peter Sutcliffe, the serial killer responsible for the Yorkshire murders, was eventually sentenced to life in prison. He died November 13, 2020 after contracting COVID-19.
---