The Staircase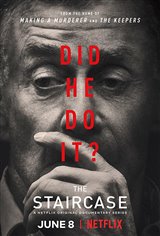 ---
When novelist Michael Peterson called 911 on December 9, 2001 and reported that his wife, Kathleen, had fallen down the stairs and was unconscious, he likely had no idea how much his life would change.

Prior to that, Michael had been a successful novelist and column writer, whose marriage to Kathleen was by all accounts, idyllic. In this series by French filmmaker Jean-Xavier de Lestrade, who began filming very early on in the case, Michael tells us he and Kathleen watched a movie on TV, wandered outside to the pool to finish their wine, and then Kathleen left to go inside at approximately 11:00 p.m. Michael says that when he went inside at 2:40 a.m., he found Kathleen bleeding at the foot of the stairs.

Michael was quickly considered the prime suspect and over the course of 13 episodes, we see what he and his family go through as Durham County District Attorney James Hardin Jr. and the police, whom he had criticized harshly in his columns prior to his wife's death, go to great lengths to get a conviction.