The Wings of the Dove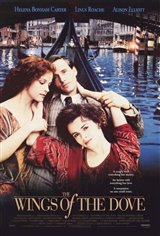 ---
Based on the 1902 Henry James novel of the same name, The Wings of the Dove is set in 1910.
After the death of her mother, Kate Croy (Helena Bonham Carter) has become a ward of her wealthy Aunt Maude (Charlotte Rampling), who is paying her dissipated father (Michael Gambon) to stay out of Kate's life. Maude wants Kate not to repeat Kate's mother's mistake and marry someone who is a commoner, and Maude arranges a meeting between Kate and Lord Mark (Alex Jennings), a high-class gentleman who can escort her to the right places. But Kate is more interested in Merton Densher (Linus Roache), a penniless journalist.
A beautiful but terminally ill American heiress, Millie Theale (Alison Elliott), arrives on the scene and befriends Kate. Kate notices Millie's obvious affection for the handsome Merton, and she arranges an elaborate scheme to hook up the two of them so that Merton can collect Millie's money after her death. But because of her own jealousy, Kate repeatedly sabotages her own arrangement.