Tiger King (Netflix)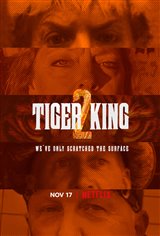 0 votes and 0 Reviews
Netflix:

November 17, 2021 - Season 2
March 20, 2020 - Season 1

Running time:
10h 17m
Genre:
Documentary, Television
---
Joe Exotic (also known as Joseph Maldonado-Passage, born Joseph Schreibvogel), the gun-toting operator of the Greater Wynnewood Exotic Animal Park in Oklahoma develops a feud with CEO of animal sanctuary Big Cat Rescue Carole Baskin, after she criticizes him of mistreating the animals in his care and then wins a 2013 lawsuit against him.
It was well documented that he starved, punched, beat and struck the animals with rakes and shovels. As well, it was revealed he would take in injured horses, ask for donations to help with medical costs to save them, then shoot them in order to provide food for his big cats.
He was accused of hiring a man and paying him $3,000 to murder Baskin, but the attempt failed when the man ran off with the money. Joe then tried to get a number of other people to take on the task and finally ended up offering $10,0000 to an undercover FBI agent to kill Baskin.
This seven-episode limited documentary series takes us into the wild world of big cat owners and enthusiasts in an exploration of how Joe Exotic went from an attention-seeking zoo owner to convicted criminal.
---