Tin Cup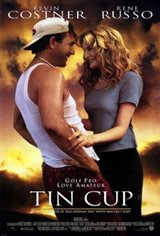 ---
Roy McAvoy (Kevin Costner) is a talented golf pro, who owns his own driving range. That sounds impressive, but the reality is quite different. While it's true that Roy is indeed a talented golfer and does own a driving range, it is in a tiny, unheard of Texas backwater. With almost no customers, he is likely to go broke.
His golfing talents remain untapped and his life is rapidly going nowhere. To pass the time, he drinks a lot of beer with his buddies, or swings at a bucket of balls. Sometimes, he even plays real golf, and his friend and assistant Romeo (Cheech Marin) caddies for him.
That's all there is for Roy, until he is wakened from his deathlike reverie by a visit from a newcomer in town, psychologist Molly Griswold (Renee Russo). Teaching her how to swing a club reminds him of feelings he had nearly forgotten.
Discovering that she is the girlfriend of his old golfing rival, David Simms (Don Johnson), goads him yet further, and he returns to the PGA golf tour to compete in the U.S. Open. Maybe he'll get Molly for himself, maybe not, but in the meantime he has some things to prove to himself.