Traffik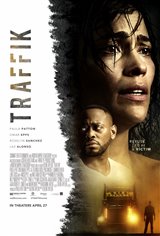 | 20 votes and 5 Reviews
Write a Review
Release Date:
May 4, 2018 - Brampton,Oakville,Toronto,Vaughan
Thriller
---
John (
Omar Epps
) and Brea (
Paula Patton
) are very much in love. For Brea's birthday, John gifts her with a car he built himself, to her specifications. They head out of town to join their friends Darren (
Laz Alonso
) and Malia (
Roselyn Sanchez
) at a remote estate in the mountains for a weekend away. While in town getting gas, as Brea goes to use the gas station bathroom, some bikers walk up to the car, admiring it.
Meanwhile, a woman goes into the bathroom and as she bumps into Brea, she slips a phone into Brea's purse without Brea noticing. One of the bikers comes and drags the woman away, but Brea gets a very uneasy feeling that the woman is in trouble. Later, when she discovers the phone in her purse, she tells the rest of the group what happened. The woman comes to the house to get the phone back, and Brea offers to help her, but the woman is insistent — she needs the phone back, or they'll all be killed.
---