True Fiction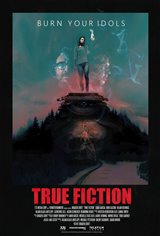 0 votes and 0 Reviews
Release Date:
March 6, 2020 - Edmonton,Toronto
VOD: March 10, 2020
1h 34m | Horror, Thriller
---
Struggling writer Avery Malone (Sara Garcia) lands an exciting job — that of assisting the world-famous, reclusive horror writer, Caleb Conrad (John Cassini), as he writes his latest novel. Having experienced a slump, Caleb is desperate to reclaim his former glory and proposes a psychological experiment to study true fear — with Avery as his guinea pig.
As he delves into Avery's psyche, strange happenings begin to occur in Caleb's remote cabin estate. Meanwhile, Avery suspects her boss may not actually be who he claims to be, but instead a killer inspired by Caleb's novels. Pushed past her breaking point, and torn between what is real or part of the experiment, Avery tries to turn the tables on her captor while still doing what it takes to fulfill her duties and finish Caleb's most gruesome novel yet.
| | |
| --- | --- |
| Director: | Braden Croft |
| Studio: | levelFILM |
| Producer(s): | Julian Black Antelope, Michael Peterson, Sarah Moore, Sheiny Satanove |
| Cast: | Sara Garcia, John Cassini, Julian Richings, Julian Black Antelope, Catherine Gell, Jason Schneider, Reamonn Joshee |
| Writer(s): | Braden Croft |
---