Twin Peaks: Fire Walk With Me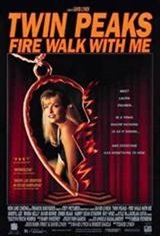 ---
David Lynch's prequel to his cult television series Twin Peaks concerns the last seven days in the life of Laura Palmer (Sheryl Lee), whose plastic-wrapped corpse, found floating in a river, was the fulcrum for the television series. During the day in the town of Twin Peaks, Laura is a top honors student at the local high school.
By night, she is a sex-crazed cokehead, prostituting herself at a sleazy sex club to get money to feed her drug habit. Her race to oblivion is fueled by her father, Leland (Ray Wise), who, as his alter ego Bob (Frank Silva), has been sexually abusing Laura since she was a child.
But Laura has an attack of conscience when she realizes that she is leading her best friend Donna (Moira Kelly) down the same rocky road. Leland, however, discovers Laura's nocturnal debauchery when, during a business trip out-of-town, his mistress for a sexual tryst sets him up with his own daughter.
In a fit of jealous rage, Leland follows Laura as she travels to a sex party in an abandoned railroad car. Consumed by insatiable longing, Leland transforms himself into Bob, with tragic results for Laura and her friends.