Under the Skin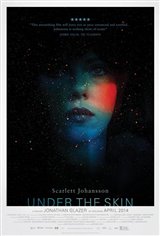 | 24 votes and 6 Reviews
Write a Review
Release Date:
May 9, 2014 - Montréal,Toronto,Vancouver
DVD: July 29, 2014
1h 47m | Sci-Fi/Fantasy
---
A voracious alien seductress (Scarlett Johansson) arrives on Earth in Scotland and kills a woman in order to take over her body. She scours remote highways and backroads in a white van, looking for male victims. When she finds one, she asks him for directions and goes on to find out more about them. If they don't have family and they accept her offer of a lift, she takes them to a remote house, where they assume they're going to have sex.
She strips as she walks across an endless black mass, and as they follow, instead of walking across it, they sink down into the gooey mass and disappear. Seemingly compassionless, not even stopping to help a baby who's just lost his parents, she begins studying people and learns that they can be supportive and helpful – if you fall they will help you up; if you are drowning they will rush to your rescue. However, together with the good traits in people, she'll also learn about violence and barbarity.
---