Unorthodox (Netflix)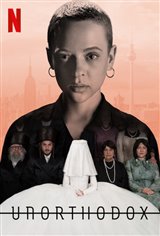 | 2 votes and 1 Reviews
Write a Review
| | |
| --- | --- |
| Netflix: | March 26, 2020 |
| Running time: | 3h 33m |
---
Esther Shapiro, a.k.a. Esty (Shira Hass), is a 19-year-old Orthodox Jew who lives in the neighborhood of Williamsburg in Brooklyn. When a marriage is arranged for her, she agrees, wanting to begin her adult life as she doesn't have parents to support her. However, she knows nothing about men or her body, and her husband Yanky (Amit Rahav) is equally inexperienced. They're unable to consummate the marriage for months and when they do, it's an ordeal for Esty. Since the day Esty and Yanky were married, his family has been blaming her for the problem and they accuse her of being unable to have children.
Finally, after Yanky reveals he's unhappy in the marriage, Esty decides to flee to Germany, where she has dual citizenship. Her estranged mother lives there, and Esty hopes to reconnect. When her mother isn't home, Esty, straight off the plane, bumps into a group of young musicians heading for rehearsal. She follows them and immediately feels a kinship. She has been studying piano in secret for several years and decides to audition. However, she first needs to find a place to stay and a job.
Meanwhile, Yanky and his cousin Moische (Jeff Wilbusch) have followed Esty to Berlin, where Moische in particular will stop at nothing to bring her back, even if he has to resort to violence.
This four-part mini-series was inspired by Deborah Feldman's memoir, Unorthodox: The Scandalous Rejection of My Hasidic Roots.
| | |
| --- | --- |
| Director: | Maria Schrader |
| Studio: | Netflix |
| Producer(s): | Alexa Karolinski |
| Cast: | Shira Haas, Amit Rahav, Jeff Wilbusch, Alex Reid, Gera Sandler |
| Writer(s): | Daniel Hendler, Alexa Karolinski, Anna Winger, Eli Rosen |
| Official Site: | netflix.com/title/81019069 |
---