Vantage Point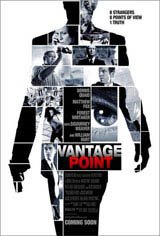 | 294 votes and 54 Reviews
Write a Review
Rotten Tomatoes® Score


34%

57%
Release Date:
DVD: June 30, 2008
1h 30m | Drama, Thriller
---
Thomas Barnes (
Dennis Quaid
) and Kent Taylor (
Matthew Fox
) are Secret Service agents assigned to protect President Ashton (
William Hurt
) at a landmark summit on the global war on terror. When President Ashton is shot moments after his arrival in Spain, chaos ensues.
In the crowd is Howard Lewis (Forest Whitaker), an American tourist video taping the historic event to show his kids when he returns home. There is also Rex (Sigourney Weaver) an American TV news producer who is reporting on the conference. It's only as we follow each person's perspective of the same 15 minutes prior to and immediately after the shooting that the terrifying truth behind the assassination attempt is revealed.
---