Victoria Day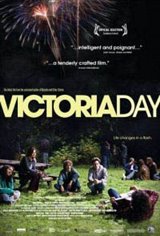 8 votes and 0 Reviews
| | |
| --- | --- |
| In theatres: | |
| On DVD: | September 29, 2009 |
| Running time: | 1h 27m |
---
With the long Victoria Day weekend signaling the end of school, and the Stanley Cup playoffs afoot, the summer of 1988 arrives in Toronto. Ben Spector, a smart, sensitive kid from a Russian immigrant family, hits the Bob Dylan show with his buddies and runs into Jordan Chapman, the class jerk and Ben's tormentor on the ice hockey rink.
Jordan is five dollars shy of scoring some drugs, and Ben begrudgingly spots him the dough. But the next day, Jordan fails to show up at school or hockey practice. With days passing and Jordan's whereabouts a mystery, Ben finds himself in an uncomfortable predicament, especially when a romance with Jordan's sister tentatively blooms in the midst of the ordeal. There's a palpable tenuousness lurking beneath scenes as Ben becomes preoccupied with Jordan's disappearance in a more existentially unsettling way than he can fully grasp.
Canadian Connection: Filmed in Toronto. Some cast members are Canadian.
---