Violet & Daisy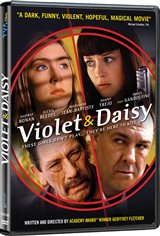 ---
Violet (Alexis Bledel) and Daisy (Saoirse Ronan) are a pair of teenage assassins who casually snuff out crime figures in New York City, distracted only by their favorite pop star idol, Barbie Sunday (Cody Horn).
Determined to raise cash for some Barbie Sunday dresses, the duo takes on a new hit job that targets a mysterious loner (James Gandolfini) who leads them into an unexpected odyssey of self-examination.
Canadian Connection: Canadian actress Tatiana Maslany plays the role of April.
---