You Get Me (Netflix)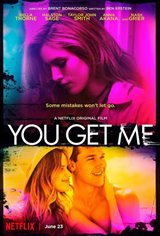 2 votes and 0 Reviews
| | |
| --- | --- |
| Netflix: | |
| Running time: | 1h 29m |
---
Tyler Hanson (Taylor John Smith) knows he has the perfect girlfriend in Ali (Halston Sage). When they go to a house party and meets a former fling of Ali's, who tells him Ali used to be a party girl who slept around, it throws Tyler for a loop. He confronts Ali, who gets angry at him and says if he can't accept her past even though she's changed, it's over.
He storms out of the party and bumps into Holly Viola (Bella Thorne), whom he met briefly inside. She tells him to get into her car and they spend the next 24 hours together. When he finally gets home and charges up his phone, he sees Ali has been trying to get hold of him. They make up, but when Holly, who told him she lived out of town, walks into their class at school, he knows he's in deep trouble.
Holly is obsessed with him and does everything she can to come between Tyler and Ali, even if it means breaking the law and hurting their friends.
| | |
| --- | --- |
| Director: | Brent Bonacorso |
| Studio: | Netflix |
| Producer(s): | Brian Robbins, Matthew Kaplan, Nicki Cortese |
| Cast: | Taylor John Smith, Halston Sage, Bella Thorne, Nash Grier, Rhys Wakefield, Anna Akana, Farrah Mackenzie, Kathryn Morris |
| Writer(s): | Ben Epstein |