Zero Chill (Netflix)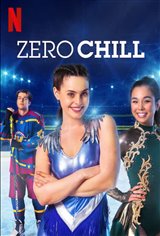 | 30 votes and 4 Reviews
Write a Review
| | |
| --- | --- |
| Netflix: | March 15, 2021 |
| Running time: | 30m |
---
Kayla MacBentley (Grace Beedie) loves pairs figure skating. It's everything to her and it gives her a chance to spend time with her best friend, Jacob (Kenneth Tynan). But when her twin brother Mac (Dakota Taylor), who's equally talented at hockey, gets a scholarship to the prestigious Hammarström Ice Hockey Academy in Britain, which is run by a former NHL player, she has to drop everything and leave Canada to go with her family as they start a new life in a new country.
For Mac, playing with a new team means he has to prove himself all over again, while Kayla tries and fails to find a partner who's up to her standard. When Jacob comes to England for a training program, she sees it as a chance to prove to his parents that they should keep skating and competing together.
Canadian Connection : Several cast members are Canadian, including lead actors Grace Beedie and Dakota Taylor.
| | |
| --- | --- |
| Director: | Angelo Abela, Tessa Hoffe |
| Studio: | Netflix |
| Producer(s): | Dominic MacDonald |
| Cast: | Grace Beedie, Dakota Benjamin Taylor, Jade Ma, Jeremias Amoore, Leonardo Fontes, Anastasia Chocholatá, Sarah-Jane Potts, Doug Rao, Tanja Ribic, Oscar Skagerberg |
| Writer(s): | Adam Usden, Zoë Lister, Vicki Lutas, Anna McCleery, Tom Melia |
| Official Site: | netflix.com/title/80996811 |
---