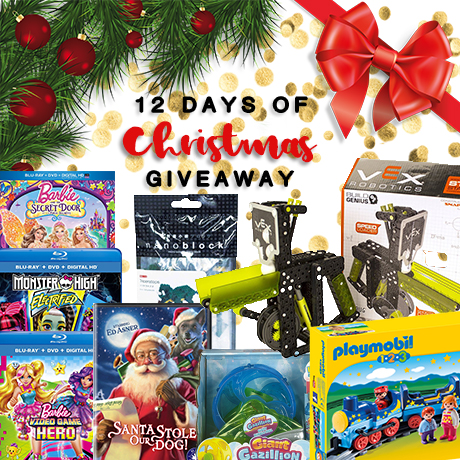 We have a wide selection of toys and childrens' DVDs to give away today, including Barbie, Monster High and more!
The Playmobil 123 Night Train with track offers a bright and colorful design and large, rounded pieces. The locomotive has space for one figure and two more figures can ride in the passenger car. Luggage can be stowed safely in the removable attachment of the luggage wagon.  Every locomotive wagon has a coupling device front and back, so that they can be joined together as desired. Axles on the locomotive's wheels move while driving. The figures can bend, sit, stand and turn their heads. Recommended for ages 1-1/2 + Retail price: $34.99
The Vex Robotics Snap Shot by Hexbug is sold out on their site, but we have one to offer you! VEX Robotics is dedicated to teaching kids the science behind the fun through hands-on learning with its STEM based robotics construction kits. With this Snap Shot, you can build your own handheld space blaster! Watch as the ammo drops down and secures into position. Lock target, aim, and send projectiles flying over ten feet. Learn how simple gear ratios and spring energy ensure that no one down range is safe. Recommended for ages 14+ Retail price: $25.99
Gazillion Giant Bubble Mill creates giant bubbles and comes with an 8 oz bottle of specially forumlated non-toxic Giant Gazillion Bubble Solution bubble solution to produce bigger bubbles than ever before. Appropriate for ages 3 years+ Retail price: 26.99
The Nanoblock Triceratops is perfect for the construction set fan seeking a superior building experience. With amazingly small bricks mere millimeters in size and manufactured to the highest tolerances for a secure fit, you can build this Triceratops, which can fit in the palm of your hand. It's amazingly detailed and realistic and perfectly sized to be displayed on a desk or shelf. Recommended for ages 8+ Retail price: $13.99
Three Blu-ray and DVD Combo Packs: Barbie and the Secret Door; Barbie Video Game Hero and Monster High: Electrified. Retail price of all three: $19.99 each for a total of $59.97
And finally, a new Christmas DVD starring Ed Asner. Santa Stole Our Dog is about a mix-up when a dog ends up at the North Pole after he crawls into Santa's bag. Retail price: $14.99
Altogether, the prizes combine to a whopping $177! To enter for a chance to win this prize pack, leave your full name below and in the comment section, tell us what is your best Christmas (or other holiday, if you don't celebrate Christmas) memory of all time?
Congratulations to Nancy Montgomery, who won this prize pack!