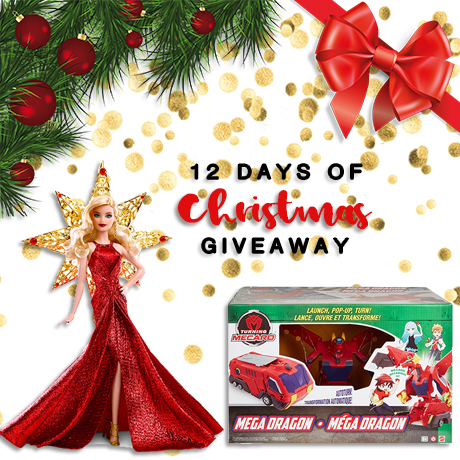 Today we have a couple of amazing gifts for kids of all ages — Holiday Barbie Doll 2017 and Mega Dragon Turning Mecard.
A beloved tradition for more than 25 years, the 2017 Holiday Barbie Collector Doll rings in the wonder of the holidays and all the joyous festivities.
The Barbie doll is adorned with a gleaming star to commemorate all those wondrous moments—the perfect complement to her festive red metallic gown and dangling earrings. 
For ages 6 and up, this doll retails at $54.99.
Based on a popular South Korean TV show, the Turning Mecard Meta Dragon offers transforming fun! Watch a trailer transform into a Mega Dragon in an instant. Just launch the turning vehicle through the slope and the transformation happens with a FLIP.
Assemble back into a trailer and then transform into a Mega Dragon again and again. Gameplay pits opponents against each other to score points on the battle arena. The Mega Dragon Turning Mecard retails at $59.99.
That's a total value of $115 on day 8 of our Christmas giveaway! To enter the contest, give us your full name below and leave a comment telling us what was the best toy you ever received on Christmas morning!