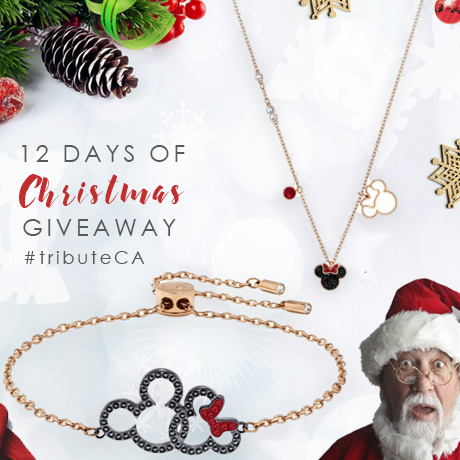 It's that time of the year again! Our annual 12 Days of Christmas Giveaway begins today. Make sure to visit our site every day for the next 12 days for a chance to win prizes valued up to $799. Also check out and follow our Tribute Movies Instagram for more (and different) prizes and to increase your chances of winning.
To kick off this wonderful season of giving, we have a beautiful Swarovski Mickey & Minnie set. Celebrating Mickey's 90th anniversary, the Mickey & Minnie Pendant, $99, with multi-colored and rose gold plating, is a stunning pendant featuring a charming silhouette of the iconic Disney character, decorated in black crystal with a vibrant red bow. It also includes a clear pavé silhouette of Minnie with a fancy-cut red crystal.
You can wear it either alone or pair it with a bracelet, because we are also giving a matching Mickey & Minnie Bracelet, $89, to go along with the pendant. The bracelet is plated in rose gold and features entwined silhouettes of Minnie and Mickey, decorated with black and red pavé. Elegant, but also adorable!
We are giving one lucky winner these delicate pieces. The total value of the two pieces is $188.
For a chance to win this amazing gift, tell us below the name of your favorite Christmas carol.
Don't forget to come back tomorrow to enter our Day 2 giveaway!
Congrats, Angela Massis on winning this prize!