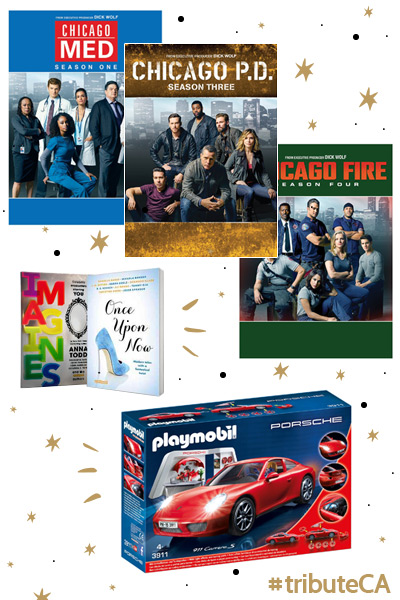 It's the 11th day of our Christmas giveaway, so be sure to enter if you want to be eligible to win an amazing prize! Today we have a Playmobil Porsche 911 Carrera S with 51 pieces, including two figures, show wall, rear spoiler, front apron, eight rims, car jack, tools and other accessories including functioning front, rear, and dashboard lights. Dimensions are 34.8 x 24.9 x 9.4 cm and it requires 3 AAA batteries (not included). Suggested Retail Price: $59.99 CDN.
We also have two Wattpad books. Let your fantasies take over! That's what the top Wattpad authors have done in this special collection of fictional scenarios that bring you up close and personal with the real celebrities you love—star alongside Zayn Malik, Cameron Dallas, Kanye West, Selena Gomez, Dylan O'Brien, Tom Hardy, Jamie Dornan, Benedict Cumberbatch, and many more! The first one is Imagines: Celebrity Encounters Starring You by New York Times bestselling author Anna Todd and the second one is Once Upon Now, which is an exclusive collection of new modern tales with a fantastical twist, from some an assortment of the most beloved writers on Wattpad. The combined value of these two books is $45 CDN.
Included in today's prize pack are three seasons of your favorite shows on DVD set in Chicago: Season One of Chicago Med ($29.99); Season Three of Chicago P.D. and Season Four of Chicago Fire ($29.99). These feature crossover episodes with the other shows in this prize pack and should make for many entertaining hours in the comfort of your home! Suggested Retail Value: $89.97 CDN.
We are also giving away a few different types of wipes from Boot Rescue, an all-natural cloth cleaner that removes dirt, oil and odor from your boots. For on-the-go cleaning, the small packages will be your new best friend. $20 CDN.
That's a total value of $215 on today's prize pack. To be eligible to win, please tell us your full name below, leave an email in the appropriate box so we can contact you and tell us who's the hardest person to shop for in your circle? (No names, just a description — for instance, mother, husband, son, niece, neighbor, etc…)
Congratulations to Wayne Wismer who won the Day 11 giveaway!