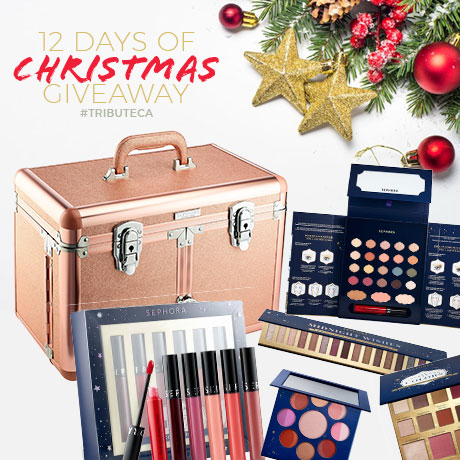 Today's prize pack is a giveaway from Sephora valued at $302.
The Sephora Collection Starlit Large Traincase, $138, is a makeup-lover's traincase to store makeup in a limited-edition rose gold design for the holiday. We also have the Sephora Collection Midnight Wishes Eyeshadow Palette, $30, which has an assortment of all colors that you can wear for the holiday season.
The Sephora Collection Cream Lip Stain Collection Set, $34, is a set that features six shades of bestselling Cream Lip Stains. The longwearing matte formulas are a must for any holiday party.
We also have the Sephora Collection Once Upon A Palette, $43, which includes 20 eye shadows, highlighter, blush, bronzer, and cream lip stain for countless irresistible and glamorous looks.
Also included in this giveaway is the Sephora Collection Moon Phases Face Palette, $34, is a face palette with blush duos and highlighters in matte, metallic, and pearl finishes. Last, but not the least, is the Sephora Collection The Enchanting Colors Eye and Face Palette, $23. The palette includes eight matte and shimmer eyeshadows including two illuminators, two brow powders in natural shades, and an ultra-fresh blush.
This prize pack will be the ultimate way to prepare for the holiday soirees. To win this prize pack valued at $302, simply tell us what's your favorite holiday tradition.
This contest has now ended. Congratulations to Dionne Roswell, who won this prize pack!