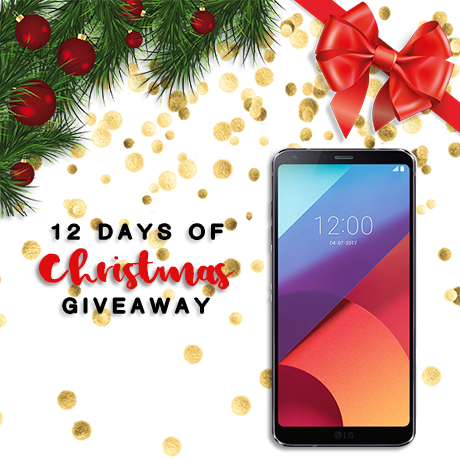 It's Day 12 of our Christmas Giveaway — and we have saved this amazing LG G6 phone for last!
The phone measures 5.7″ with a 5.2″ screen and has a comfortable grip for one handed use. The ergonomic design certified by Penn State University fits in the palm of your hand. Easy one-handed use of split screen means you can see 10 percent more information on the screen — the multitasker's dream!
Not only is it water and dust resistant, but it has front and rear wide angle cameras, square view and Instagrammer modes; advanced selfies; video studio and GIF generator.
This fast-charging  phone has a Qualcomm® Snapdragon™ 821 Processor with X12 LTE. The retail value of this beauty is $999.99.
For a chance at winning this fantastic prize, write your full name below and leave a comment to tell us what is the strangest Christmas (or other holiday, if you don't celebrate Christmas) gift you've ever received?
Congratulations to Mary Ann Daigle, the winner of this amazing prize! Merry Christmas and Happy Holidays to all our readers!