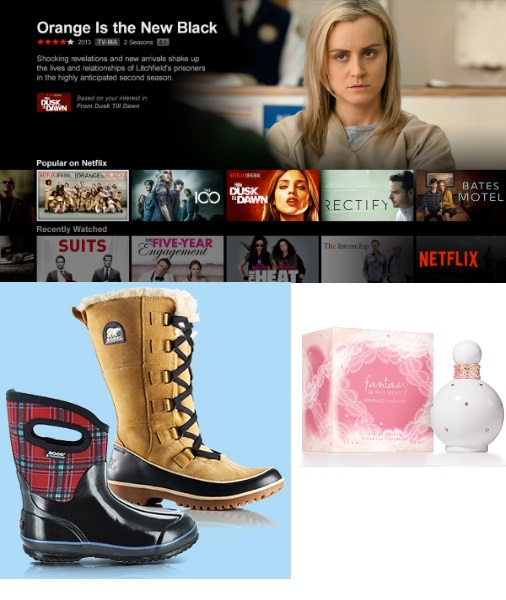 Merry Christmas to all our readers! We have thoroughly enjoyed sharing our 12 days of Christmas giveaways with you! The final prize pack is filled with gift cards and fragrances.
First up is two six-month Netflix subscriptions! All you movie lovers can now enjoy a whole lot of movies and TV shows in the New Year! If you don't win one of these, you can still give the gift of unlimited movies and TV shows with Netflix Retail Gift cards, which can be purchased in increments of $30 or $60 at a number of retail stores including Walmart, Target, Sobeys, 7-Eleven, Safeway, Metro and Loblaws, and apply the card to either new or existing Netflix accounts. Based on the plan they've chosen, their account will be deducted appropriately. Netflix will send a reminder by email when the balance is low.
What can you watch on Netflix? Everything. From movies to TV shows, from foreign language films to kids films. A new Netflix Original show for kids, Dawn of the Croods, is launching later this month. What better way for the family to get together and watch this show on Netflix!
Also included in this prize pack is two $50 gift cards to The Shoe Company. It's only a matter of time before Mother Nature swoops in with a blast of snow. I know, the thought of that gives you the chills (quite literally). You can get winter ready with Canada's largest selection of brand-name winter boots for the whole family at The Shoe Company. Who wouldn't want to grab their hands (or feet) on this one?
Lastly, and hardly the least, is a Britney Spears Fantasy Intimate Edition Eau de Parfum Spray ($39 CDN), perfect for the beauty lover or the pop culture enthusiast.
To be entered to win this prize pack, valued at $260 CDN, simply leave a comment below to tell us how you are celebrating Christmas this year.
Congratulations to Nicole Westre, who won this prize pack! Thanks everyone for entering!