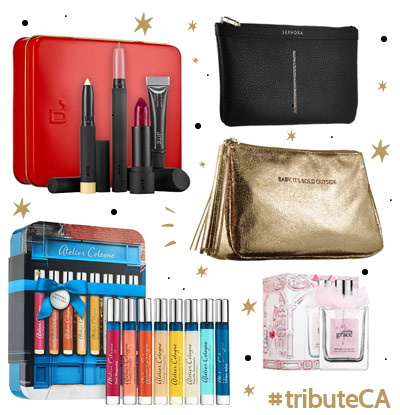 It's Day 2 of our 12 Days of Christmas giveaway and today there's a big bag of beauty items from our friends at Sephora, philosophy, Bite Beauty and Atelier Cologne.
First up is a Bite Beauty Discovery Set valued at $45 CDN. This giftable set includes an Amuse Bouche Lipstick in Beetroot, a Deluxe Agave Lip Mask, a Matte Crème Lip Crayon in Leche and a Deluxe Line & Define Primer. You can keep this perfect pout pack or give it to someone you know with a penchant for puckered pouts.
Atelier Cologne Nécessaire Nomade III valued at $52 CDN is also an gorgeous present on this Santa list. This travel-friendly keepsake brings offers eight enviable fragrances in Sud Magnolia, Pomélo Paradis, Mandarine Glaciale, Orange Sanguine, Bergamote Soleil, Vanille Intensée, Clémentine California and Cédre Atlasprize.
Our favorite philosophy Amazing Grace Nutcracker Eau de Toilette valued at $60 CDN. This beautiful, feminine scent is infused with fresh blossoms and lasting musk to add a punch of floral to your day.
Of course, we  leave the best for last. We have two Sephora Collection The Jetsetter: Personalized Pouch valued at $20 CDN to make your travel easier and dare we say, chic. A super cute item from the Sephora Collection is the Baby, It's Bold Outside Bag, $25 CDN, which sure is a fun and flirty travel must-have.
The total value of this bag of beauty must-haves is $202 CDN. You can win these goodies for yourself or for the beauty addict in your life. To win this prize pack, simply comment below and tell us what's your favorite holiday tradition.
Congratulations to our Day 2 winner — Debora Miscione!