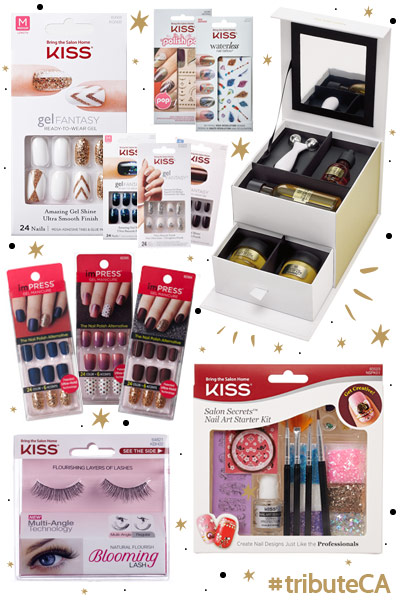 On the fourth day of Christmas, Santa came with glee carrying a glorious beauty prize pack from The Body Shop along with the hottest KISS and Broadway nail trends for the year.
The Body Shop Oils of Life Ultimate Collection, valued at $115 CDN, is a luxurious gift set to pamper someone with this Christmas. Packaged beautifully in a keepsake jewelry box, you'll find specially selected skin-friendly items, such as the Intensely Revitalising Cream 50 ml, Intensely Revitalising Essence Lotion 160ml, Intensely Revitalising Facial Oil 30ml, Intensely Revitalising Sleeping Cream 80ml and a Twin-Ball Massager.
Also part of this prize pack are some of the hottest and trendiest KISS and Broadway Nails from the Fall/Holiday Collection. Three beautiful imPRESS Press-On Manicure kits ($9.99 CDN each), four perfect KISS Gel Fantasy Nail Kits ($10.99 CDN each), a KISS Polish Pop kit ($4.97 CDN), a KISS Waterless Nail Tattoo pack ($2.84 CDN) and a KISS Bejeweled pack ($3.97 CDN).
And last but not the least is the KISS Blooming Lash ($7.99 CDN), which gives an added volume to your lashes to give a luxurious look. The multi-angle technology still gives a natural look but the va-va-voom volume is the real deal.
So if your nails are itching for a manicure and you'd like to get your hands on this prize pack valued at $209 CDN, leave a comment below with your full name and an email address where we can reach you, telling us what's your favorite Christmas dessert.
Congratulations to our Day 4 winner — Andrea Bilec!