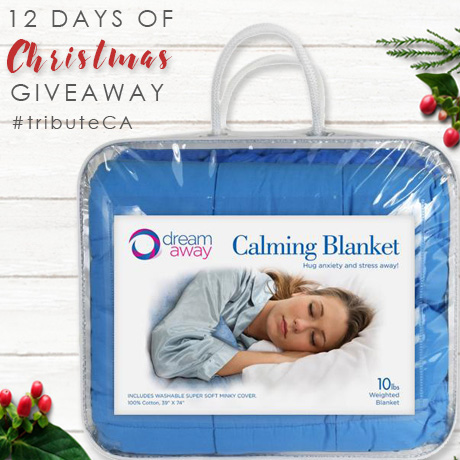 It's Day 6 of our 12 Days of Christmas giveaway and we have something that everyone would enjoy today as a gift, plus a little something extra for men.
Make sure to also check out and follow our Tribute Movies Instagram for more (and different) prizes and to increase your chances of winning.
Almost everyone complains of being tired, especially during these hectic days leading up to the holidays. A good night's rest is essential for happy and productive days. Cuddle up and get cozy with a Dream Away Calming Weighted Blanket. Weighted blankets mimic deep pressure touch stimulation and thus have a calming and soothing effect, offering the warmth and reassuring pressure of a gentle hug that aids the body in releasing serotonin to calm you, or an anxious little one, into a soothing slumber. Leave the sleeping pills in the cabinet and out of your system as you get to sleep quickly using the blanket as a natural sleep aid.
For those of you who have children with Autism or ADHD, or those experiencing Night Terrors, the pressure that the blanket puts on the child's body meets the child's need for physical sensation and simultaneously calms the child down. Dream Away can also help those affected by Sleep Apnea, Restless Leg Syndrome, Narcolepsy, and Jet Lag. Available exclusively at Showcase. Retail value: $199.00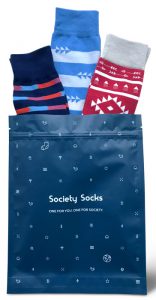 Society Socks: Getting a sock subscription is the perfect gift for men this holiday season! Along with two pairs of stylish socks delivered monthly (with free shipping), two pairs are donated to those in need. The socks are of extremely high quality (made of combed cotton), and come in a variety of exciting designs and patterns that are unique every month. Society Socks will also insert a hand-written note with your desired message for your recipient in the 1st month of the subscription. Subscriptions are also available for women's socks. We have two pairs of Society Socks to giveaway. Retail Value: $25 per month, or you can get 6 or 12 month prepay options, which are an even better value.
The total value of this prize pack is $224.00. To enter for a chance to win, tell us below the name of your favorite Christmas movie. The name of the winner will be contacted by email, then their name will be posted here.
Check back tomorrow to see what prizes we are offering on Day 7 of our 12 Days of Christmas giveaway. Good luck everyone!
Congrats Daniel Schneider on winning this giveaway!