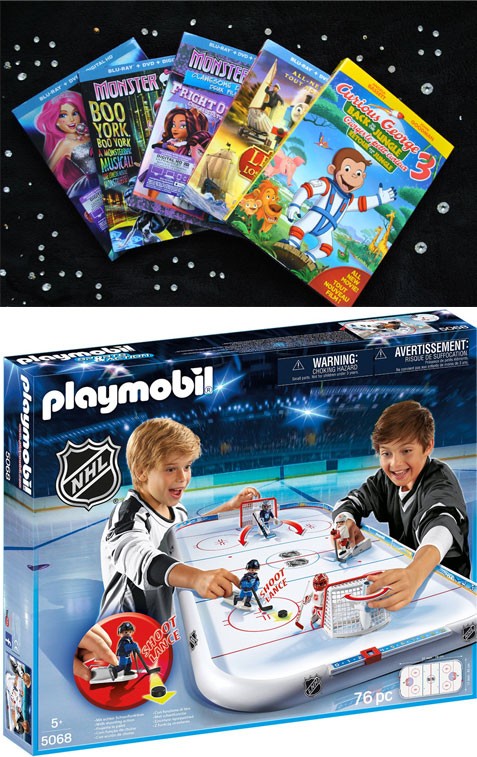 Day 7 of our 12 Days of Christmas giveaway includes a Playmobil NHL Arena Playset plus a selection of DVDs for children in our 12 Day of Christmas giveaway.
This original Playmobil NHL Arena includes 2 goalies, 2 players from Eastern and Western All‐Star teams and 4 hockey pucks. Hockey fans can also customize their NHL Arena with player numbers for the back of the jerseys, graphics for the boards and logos of the 30 NHL teams. ($69.99)
Also included are two Monster High Blu-ray Combo packs (retail value: $39 each); a Barbie in Rock 'N Royals Blu-ray Combo Pack (retail value: $30.99); Thomas & Friends: Sodor's Legend of the Lost Treasure The Movie Blu-ray Combo pack (retail value: $30.99) and Curious George 3: Back to the Jungle DVD (retail value: $22.99). That's a total value of $185.95 for today's giveaway!
Do you know any kids who would enjoy these goodies?
To be entered to win this prize pack, tell us below which animated character is your child's favourite for a chance to win.
Congratulations to Andrew Farinha, who won this prize pack! Thanks everyone for entering!