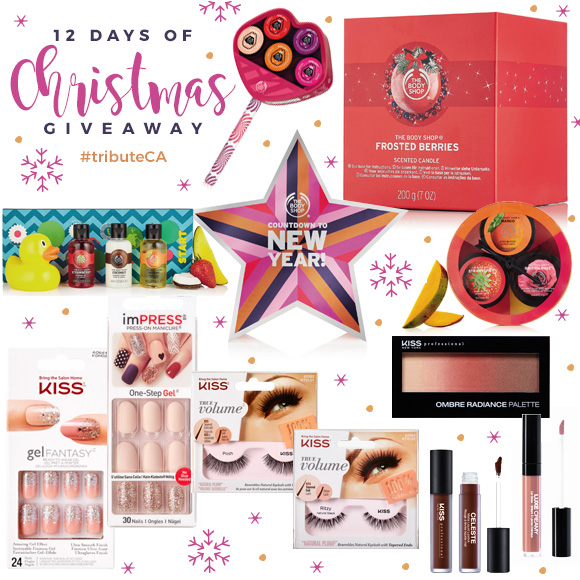 Today's prize pack is an exclusive giveaway valued at $300. We are giving one lucky winner 15 items courtesy of The Body Shop, KISS and KISS NY Pro.
First up, we have five gift sets from The Body Shop. There's a Countdown To New Year With The Body Shop ($69) which includes a new gift to open each day from Christmas to New Year. There's a Duck N Dive Shower Gel Gift Set ($18), Kiss And Tell Born Lippy Wand ($18), Frosted Berries Candle ($22) and a Dial-A-Flavour Body Butter Trio ($15). These are a great treat for yourself or you can pamper your family and friends.
Next up, we have a selection of nail and lash sets from KISS Products. There's an imPRESS Press-On Manicure kit ($9.99) and a Gel Fantasy kit ($10.99), both available at Walmart, London Drugs & Jean Coutu. These nail kits are easy to apply before you head out the door. They add that bling to your look and last for a week. We are also giving away True Volume Lashes ($6.29), Looks So Natural Lashes ($6.29) and Strip Lash Adhesive ($3.99), all of which are available at London Drugs.
Lastly, we have a selection of makeup from KISS NY Pro. You will be receiving a Luxe Creamy Lipgloss ($9.99), Celeste Matte Liquid Lipstick ($9.99), Egoism Matte Velvet Lipstick ($9.99), Ombre Radiance Palette ($19.99) and a Dead Sexy Liner ($12.99), all available at Rexall and London Drugs.
To win this high value prize pack, simply leave a comment below with your full name and tell us what was your most successful New Year's resolution – or most disastrous fail.
Congrats, Christina Pico!