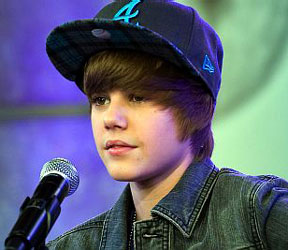 The Canadian Academy of Recording Arts and Sciences (CARAS) today announced the nominees for the 2010 JUNO Awards. Leading all categories with a total of six nominations is Michael Bublé. Following the hugely successful release of his first studio album in over two years, Bublé will contend for the JUNO Fan Choice Award, Single of the Year for "Haven't Met You Yet," Album of the Year, Artist of the Year, Songwriter of the Year and Pop Album of the Year. His album Crazy Love also garnered producers Bob Rock and David Foster a nomination each in the Producer of the Year category. 
Multiplatinum-selling rockers Billy Talent are nominated for four 2010 JUNO Awards, as are Drake and Johnny Reid. This year's JUNO Awards nominations saw 94 first-time nominees in total, including those up for New Artist of the Year: Carly Rae Jepsen, Danny Fernandes, Drake, Justin Bieber and Shiloh; and New Group of the Year: Arkells, Down With Webster, Stereos, Ten Second Epic and The New Cities.
Sixteen-year-old pop sensation Justin Bieber and indie rock band Metric have both earned triple nominations and will be performing at The 2010 Juno Awards on CTV, Sunday April 18. Also confirmed to join the broadcast line-up are Billy Talent, Blue Rodeo, Drake, Johnny Reid and Michael Bublé.
LIST OF NOMINEES:
JUNO FAN CHOICE AWARD
Ginette Reno
Johnny Reid
Maxime Landry
Michael Bublé
Nickelback
SINGLE OF THE YEAR
Rusted From the Rain, Billy Talent
Anybody Listening, Classified
Best I Ever Had, Drake
Haven't Met You Yet, Michael Bublé
Love Is A First, The Tragically Hip
INTERNATIONAL ALBUM OF THE YEAR
The E.N.D., Black Eyed Peas
Circus, Britney Spears
Only By The Night, Kings Of Leon
I Dreamed A Dream, Susan Boyle
Fearless, Taylor Swift
ALBUM OF THE YEAR
III, Billy Talent
Quiet Nights, Diana Krall
Dance With Me, Johnny Reid
My World, Justin Bieber
Crazy Love, Michael Bublé
ARTIST OF THE YEAR
Diana Krall
Jann Arden
Johnny Reid
K'Naan
Michael Bublé
GROUP OF THE YEAR
Billy Talent
Blue Rodeo
Hedley
Metric
The Tragically Hip
NEW ARTIST OF THE YEAR
Carley Rae Jepsen
Danny Fernandes
Drake
Justin Bieber
Shiloh
NEW GROUP OF THE YEAR
Arkells
Down With Webster
Stereos
Ten Second Epic
The New Cities
SONGWRITER OF THE YEAR
Carly Rae Jepsen & Ryan Stewart
Emily Haines & James Shaw
Joel Plaskett
K'Naan
Michael Bublé
COUNTRY ALBUM OF THE YEAR
Go, Doc Walker
Believe, Emerson Drive
Dance With Me, Johnny Reid
The Long Way Home, Terri Clark
The Road Hammers II, The Road Hammers
ADULT ALTERNATIVE ALBUM OF THE YEAR
Nineteen Seventy-Seven, 1977
Masters of the Burial, Amy Millan
Way Down Here, Cuff The Duke
How To Fall Down In Public, Howie Beck
Three, Joel Plaskett
ALTERNATIVE ALBUM OF THE YEAR
Face Control, Handsome Furs
Post-Nothing, Japandroids
I Can Wonder What You Did With Your Day, Julie Doiron
Fantasies, Metric
Sainthood, Tegan & Sara
POP ALBUM OF THE YEAR
The Show Must Go, Hedley
My World, Justin Bieber
The Listening, Lights
Crazy Love, Michael Bublé
Stereos, Stereos
ROCK ALBUM OF THE YEAR
Old Crows/Young Cardinals, Alexisonfire
III, Billy Talent
Dark Horse, Nickelback
We Are The Same, The Tragically Hip
Life Starts Now, Three Days Grace
VOCAL JAZZ ALBUM OF THE YEAR
I Like Men, Carol Welsman
Quiet Nights, Diana Krall
Haven't We Met, Emilie-Claire Barlow
Lovelight, Michael Kaeshammer
Ranee Lee Lives Upstairs, Ranee Lee
CONTEMPORARY JAZZ ALBUM OF THE YEAR
The Happiness Project, Charles Spearin
Infernal Machines, Darcy James Argue's Secret Society New
Motion, Hilario Duran
Silverbirch, John Roney
Songbook Vol. 1, Kirk MacDonald Quartet
TRADITIONAL JAZZ ALBUM OF THE YEAR
Regeneration, Al Henderson Septet
Bluesy Lunedi, Alain Bédard
Strands II, Darren Sigesmund
Pleased To Meet You, Oliver Jones and Hank Jones
It's About Time, Terry Clarke
INSTRUMENTAL ALBUM OF THE YEAR
Beats On Canvas, Beats On Canvas
As Seen Through The Windows, Bell Orchestre
Trifecta, Pavlo, Rik Emmett, Oscar Lopez
Yalla Yalla!, Sultans Of String
L'ile de Sept Villes, The Hylozoists
FRANCOPHONE ALBUM OF THE YEAR
Les sentinelles dormant, Andrea Lindsay
mille excuses milady, Jean Leloup
Dans Mon Corps, Les Trois Accords
Un toi dans ma tête, Luc De Larochellière
Un serpent sous ses fleurs, Yann Perreau
CHILDREN'S ALBUM OF THE YEAR
Action Packed, Bobs & Lolo
I'm Me!, Charlie Hope
Love My New Shirt, Norman Foote
We Share The Earth, The Bee's Knees
Walk On, The Kerplunks
CLASSICAL ALBUM OF THE YEAR: SOLO OR CHAMBER ENSEMBLE
Philip Glass : Portrait
El Dorado
Tchaikovsky: Souvenir de Florence, Quartet No. 1
James Ehnes plays Paganini 24 Caprices
Joel Quarrington: Garden Scene
CLASSICAL ALBUM OF THE YEAR: LARGE ENSEMBLE OR SOLOIST(S) WITH LARGE ENSEMBLE ACCOMPANIMENT
Mathieu, Shostakovich, Mendelssohn: Concertino & Concertos
Bartók
Mendelssohn – Piano Concertos 1 & 2 – Symphony No. 5
Selections From the 2009 National Tour
Bruckner 8
CLASSICAL ALBUM OF THE YEAR: VOCAL OR CHORAL PERFORMANCE
Adrianne Pieczonka sings Puccini
Songs By Ravel
Gomidas Songs
Porpora Arias
Melodiya: Glinka, Mussorgsky, Rachmaninov, Tchaikovsky
CLASSICAL COMPOSITION OF THE YEAR
Nocturne
Angels In Flight
Lament In The Trampled Garden
Dreams Of Flying
Earth Songs
RAP RECORDING OF THE YEAR
Still Fly
Self Explanatory
So Far Gone
Yes!
Troubadour
DANCE RECORDING OF THE YEAR
Shine 4U
For Lack Of A Better Name
Runnin
I'm No Human
Thunderheist
R&B/SOUL RECORDING OF THE YEAR
INTRO, Danny Fernandes
Lonesome Highway, jacksoul
The Long Way Home, Jarvis Church
The Black Book, Jully Black
The Bridge, Melanie Fiona
REGGAE RECORDING OF THE YEAR
American Dream, Carl Henry III
Gonna Be Alright, Dubmatix ft. Prince Blanco
Show Me The Way, Kim Davis
Wha-La-La-Leng, Poirier
Breaking Up, Tanya Mullings
ABORIGINAL ALBUM OF THE YEAR
Distant Morning Star, Digawolf
We Are, Digging Roots
Sing Soul Girl, Inez
Swagger, Lucie Idlout
Trail of Tears, Wayne Lavallee
ROOTS & TRADITIONAL ALBUM OF THE YEAR: SOLO
Hunter, Hunter, Amelia Curran Six
Pink Strat, Bahamas
Losin' Lately Gambler, Corb Lund
Queen's Hotel, John Wort Hannam
Achin In Yer Bones, Romi Mayes
ROOTS & TRADITIONAL ALBUM OF THE YEAR: GROUP
Annie Lou, Annie Lou
Let's Just Stay Here, Carolyn Mark & NQ Arbuckle
Good Lovelies, Good Lovelies
Lost Channels, Great Lake Swimmers
No Fool For Trying, Madison Violet
BLUES ALBUM OF THE YEAR
Steady Movin', Carlos del Junco
From The Water, Colin Linden
I Need A Hat, Downchild
The Corktown Sessions, Jack de Keyzer
Low Fidelity, Treasa Levasseur
CONTEMPORARY CHRISTIAN/GOSPEL ALBUM OF THE YEAR
Dear Diary, FM Static
What I Gotta Say, Janelle
Where's Our Revolution, Matt Brouwer
Devotions, Steve Bell
Welcome To The Masquerade, Thousand Foot Krutch
WORLD MUSIC ALBUM OF THE YEAR
Alex Cuba, Alex Cuba
Comfortably Mine, Domenic Mancuso
Slide to Freedom 2: Make a Better World, Doug Cox & Salil Bhatt
Sunplace, Jaffa Road
La danse de l'exilé, Karim Saada
JACK RICHARDSON PRODUCER OF THE YEAR
Bob Rock
"Haven't Met You Yet" | "Baby (You've Got What It Takes)" – CRAZY LOVE – Michael Bublé
David Foster
"Cry Me A River" | "All Of Me" – CRAZY LOVE – Michael Bublé
Fred St-Gelais
"Plaisirs amers" | "C'est mois" – VERSION 3.0 – Marie-Mai
Kevin Churko
"Look Where You're Walking" (co-producer Kane Churko) – MODERN SCIENCE Modern Science Mimortl | "The Dream" THE DREAM – In This Moment
Michael Phillip Wojewoda
(co-producer Jennifer Foster) "Palm Trees" | "The Key (Different Than I Used To Be)" SONGS FROM THE ALIEN BEACON – Jennifer LFO
VIDEO OF THE YEAR
Mr. Hurricane, Ben Steiger-Levine BEAST
Heavens To Purgatory, Ben Steiger-Levine THE MOST SERENE REPUBLIC
Anybody Listening, Harv CLASSIFIED
Little Bit Of Red, Marc Ricciardelli SERENA RYDER
It's Okay, WeWereMonkeys LAND OF TALK
MUSIC DVD OF THE YEAR
Miroir Noir, Vincent Morisset, Vincent Morisset & Arcade Fire ARCADE FIRE
Snakes & Arrows Live, Pierre & François Lamoureaux Allan Weinrib, Pegi Cecconi, Ray Daniels RUSH
Iron Maiden Flight 666, Sam Dunn, Scott McFadyen Ron Smallwood, Stefan Demetriou, Andy Taylor IRON MAIDEN
The Trews Acoustic – Friends & Total Strangers, Tim Martin, John-Angus MacDonald, Larry Wanagas THE TREWS
DRUM! Live, Aaron Young, Doris Mason, Colin Smeltzer, Daniel Brooker Brookes Diamond DRUM!