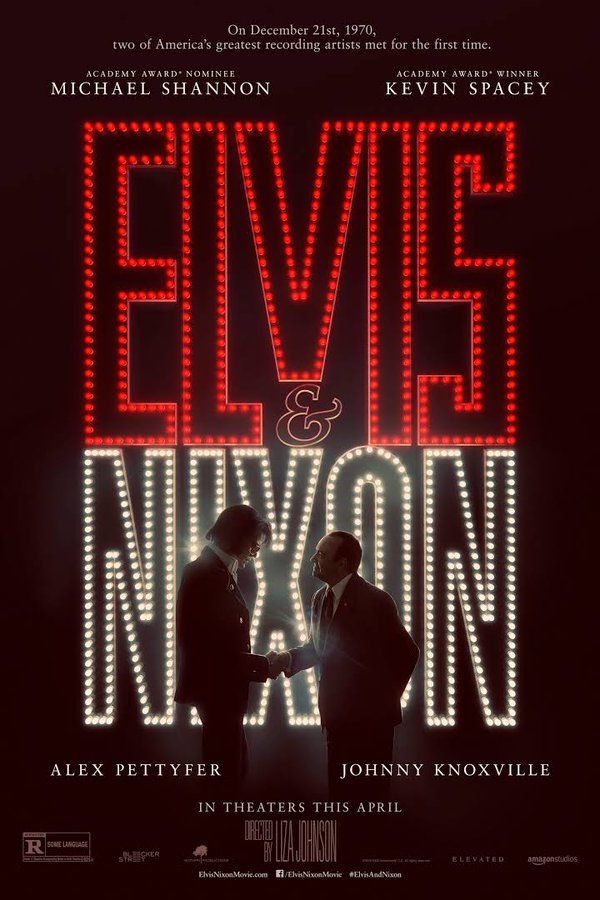 The comedy Elvis & Nixon opens this Friday, so we decided to check out the true story behind the events of what happened in 1970 when Elvis Presley met Richard Nixon.
On Monday, December 21, 1970, the King of Rock 'n' Roll, Elvis Presley, donning crushed velvet and aviator glasses, approached the North West gate of the White House in anticipation of his meeting with then-President Richard Nixon.
The King was looking for a badge from the federal Bureau of Narcotics and Dangerous Drugs. Nixon was looking to send a message to the young people of America.
The two men met in the Oval Office, shook hands, while White House photographer Ollie Atkins snapped some photos.
It was an improbable meeting between a rock legend and a conservative president that would unknowingly produce the most-requested photograph in National Archives' history.
Michael Shannon stars as Elvis, with Kevin Spacey as Nixon, Alex Pettyfer as Elvis' longtime friend Jerry Schilling, Colin Hanks as Nixon aide Egil Krogh and Tate Donovan as White House Chief of Staff H.R. Haldeman in the upcoming historical comedy Elvis & Nixon, which follows that bizarre meeting of minds and the pictures that would beguile the American people.
To find out the whole story behind this history making meet and greet, click here.
~Shelby Morton