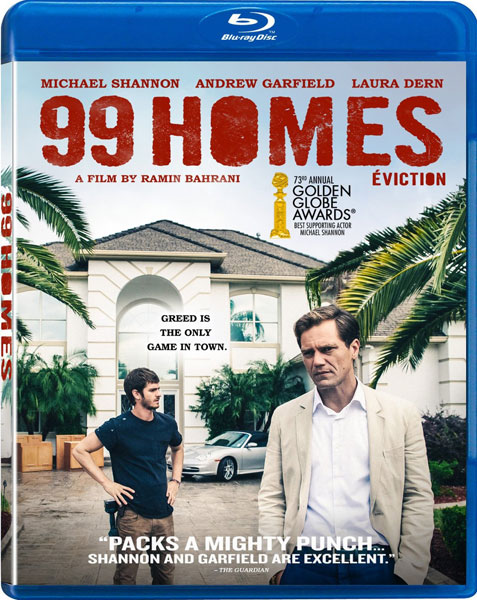 Dennis Nash is a 30-something-year-old single father struggling to hold down any construction job he can find. He's like most working class people in 2008 America, during the Great Recession. The childhood home he's living in with his son and his mother is in foreclosure.
Dennis is doing everything he can in order to save the beloved home two generations of his family grew up in. But when real estate broker Rick Carver shows up at his door, Dennis is devastated to find his time is up — he's officially evicted. His family is humiliated in front of leering neighbors as all their belongings are cast out onto on the front lawn. They must now move themselves (and everything they can fit into their pickup truck) into a dingy hotel on the other side of town.
Dennis is desperate to find his way back. To get his son Connor back to his home school and to his friends. To get his mother Lynn's home hairdressing business back up and running. But finding the money to do so is all but impossible. He's jobless at a moment in time when jobs are scarce.
This is until he realizes some of his tools are missing and goes to Carver's office to confronts his moving crew. While there, Dennis is offered $50 to help clean up a blocked sewage main in a foreclosed home. Dennis is wary. But Carver candidly points out the sad truth, "Fifty dollars is no joke to a guy like you."
So off Dennis goes to help the man who, just days before, destroyed his life. Carver, impressed by Dennis's determination and gumption while at the job site, offers him another job. One job turns into two, two in three, and Dennis eventually becomes Carver's main service man.
Without giving too much away, these "service calls" aren't always legal. And soon he is promoted to Carver's job, transitioning from the evictee to the evictor. We watch as Dennis falls further into shady dealings and farther away from the man he once was.
Directed by Ramin Bahrani, 99 Homes is an intense look at one desperate man's fight to come to terms with the price of succeeding while all others are failing.
The very talented Laura Dern plays Lynn while newcomer Noah Lomax is Connor, and both are great as a helpless grandmother and grandson just trying to survive. But the real standouts are the two leads. The Amazing Spider-Man's Andrew Garfield does a bang-up job as a man conflicted at every turn. It's almost like every crooked decision he makes not only causes him intense guilt, but intense physical pain. We see his face writhe in agony at his first "eviction." We feel his exhaustion as he's tasked to steal yet another air conditioning unit from some poor sucker's foreclosed home. He knows, the entire way through, that what he's doing is wrong. And utterly hypocritical. But, unfortunately, money talks. Loudly.
No one recognizes this sentiment more than the greedy Rick Carver, played by the criminally underrated Michael Shannon. He's a terribly despicable character, one whom you find yourself loathing one moment and admiring the next. I must admit, there's a lot of truth to the things he says. Why not join (and exploit) them if you can't beat them? But as realistic as Carver believes he's being, there's also a lot of self-delusion and avoidance buried under his bravado. He's constantly reminding Dennis, "Don't get emotional about real estate. They're just boxes." But obviously it's more about reminding himself. Carver is a man determined to remain strong in a system rigged against the weak.
The most poignant moments in this perfectly paced film are definitely during the evictions. Witnessing the desperation and pain in these people's eyes as they realize the American Dream has turned into a nightmare is deeply unsettling. These scenes are powerful and very well executed. So well executed, in fact, it feels voyeuristic. It's as if we're privy to a moment in someone's life that we really shouldn't be allowed to see. But this is a realistic depiction of things that were actually happening in America. And still do. Millions of Americans left homeless, except with no cameras to capture the injustice of it all. This movie proves an unfortunate truth about our capitalist society: once you're down, it's damn near impossible to get back up.
It's very easy to sit back and judge these two deeply flawed characters, Dennis and Carver. But as I sit in my cushy chair, at my cushy job, knowing I have a home to go to at the end of the day — I now understand the fear. The fear of how fleeting it all is. And how that fear can make us do things we never thought possible. Fear is, as the saying goes, the ultimate motivator.
This is why I liked 99 Homes so much — it fearlessly shines a light on a corrupt institution that punishes the poor and rewards the rich. It made me question what I myself would do if I were put in such a precarious situation. If my home and livelihood were on the line, what would I be willing to do to get it back? Is Carver right after all?
Is it better to stay with the 99 who will drown? Or to be that one out of 100 who will make it onto the arc? You decide. ~Shelby Morton
Bonus Features: Deleted Scenes and Feature Commentary with director Ramin Bahrani.