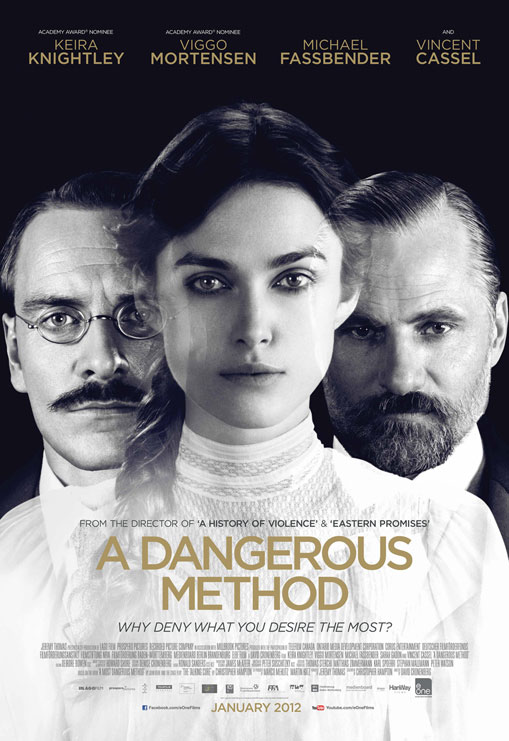 What happens when you pit two of the most influential minds in history against one another? David Cronenberg's A Dangerous Method, might just be the answer. The director treads on the fine line between filmmaking and recreating history in a story that actually draws from real-life events.
In the midst of the psychoanalysis revolution, a young, driven Carl Jung (Michael Fassbender) is attempting to delve deeper into the human psyche with his new patient, Sabina Spielrein (Keira Knightley), a deeply disturbed young woman with a troubled past. By using the "talking cure" techniques of his mentor and the pioneer of psychoanalysis, Dr. Sigmund Freud (Viggo Mortensen), Jung manages to reach Spielrein in a way he never thought would be possible. Unable to resist her brilliant mind and raw sex appeal, the two begin a scandalous but torrid love affair, one that not only draws a stake in Jung's relationship with Freud, but also changes the course of history forever.
The film certainly draws you in with the pre-World War I period wardrobe and scenery, but it's the strong performances by the three lead characters that actually keeps you in your seat. Knightley's interpretation of Spielrein is both heartbreaking and fascinating, from her nervous breakdowns and body convulsions to her passion for Jung and his work. Then there's the on-screen chemistry between Fassbender and Mortensen, as Jung and Freud respectively. Their exchange of words in person and even through penned letters are marked by subtle tones of doubt and jealousy but also love and admiration. Because the film is based on true events, viewers will get a sense of privileged eavesdropping on the conversations and discussions that the pair would have really shared so many years ago.
The DVD, which was released today, also features interviews with the cast and crew, production b-roll footage, and selected clips from the film. ~Soriyya Bawa