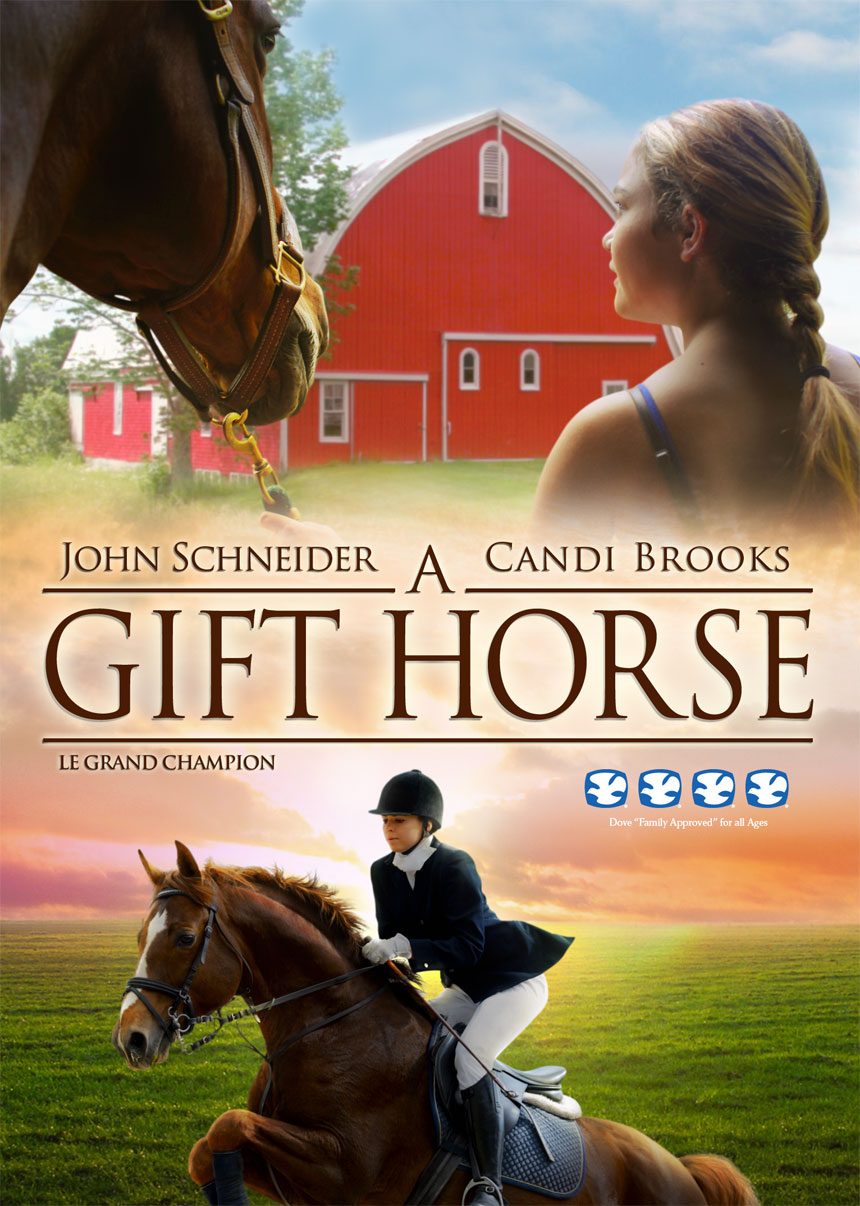 A Gift Horse is a straight-to-DVD movie about a little girl, Amanda (Kyla Kenedy), who works at an upscale private stable. In exchange, she gets lessons from Charlotte, the resident coach/horse trainer, who's there to train and coach the boss's spoiled-brat daughter. Starring John Schneider as Mr. Canton, the owner of the stables, the film suffers from a somewhat disjointed storyline that meanders at times, especially when focusing on the adults, but if you concentrate on the basic story of Amanda, the tiny girl who loves horses so much that she spends all her spare time working at the barn, it's an enjoyable 80 minutes, especially for horse lovers.
Basically, Amanda loves horses and wants to ride and compete, while Canton's daughter Abigail doesn't appreciate what she has, doesn't seem to love horses and doesn't want to be entered in competitions. It's no wonder, because her father puts an enormous amount of pressure on her to win. Amanda, who lost her mother to cancer, forms a bond with Charlotte and with Misty, a horse Abigail hates. Amanda has grown fond of Misty and works overtime to help nurse Misty back to health when she comes up lame.
It's nice to see a horse movie about the hunter/jumper world for a change, rather than about racehorses or cowboys. If you have a little girl who loves horses, she's going to be inspired by Amanda's journey in this movie.
Although the DVD doesn't offer bonus features, there are some very funny bloopers at the end in which a rooster keeps stealing the show.
Other DVDs releasing this week include: Taken 3, Maps to the Stars, Cake, Everly, Little Accidents, A Girl Walks Home Alone at Night, The Marine 4: Moving Target, Supremacy and Two Days, One Night.
Watch the trailers for the new releases below:
Cake
Everly
A Girl Walks Home Alone at Night
Taken 3
Maps to the Stars
Little Accidents
Supremacy
Two Days, One Night