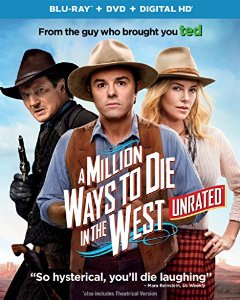 Seth MacFarlane is back with another hilarious comedy! Following the enormous success of Ted, he packs a star-studded cast into his new American-Western themed film A Million Ways to Die in the West, set in the town of Old Stump, Arizona in 1882.
The plot revolves around local sheepherder Albert Stark (MacFarlane), town underachiever and pathetic excuse of a cowboy. He fails to defend himself in a very public town duel and is consequently dumped by his superficial girlfriend Louise (Amanda Seyfried). As his friends Edward (Giovanni Ribisi) and Ruth (Sarah Silverman) attempt to comfort him, Albert desperately attempts to win Louise back from her new, mustached boyfriend, Foy (Neil Patrick Harris.) He has almost given up when the gorgeous Anna (Charlize Theron) rides into town and befriends him.
When the new friends appear at the local fair with the intentions of making Louise jealous, Albert somehow agrees to duel Foy the following week. Albert confesses to Anna that amongst his many failures, he has no idea how to use a gun. She promises to teach him in the week leading up to the duel. The pair spend a lot of time out in the country smoking pot, shooting bottles and finding their relationship growing into something more than friends. However, Anna turns out to have a husband (Liam Neeson) who's an outlaw, further endangering Albert's life.
Although the film focuses on the developing relationship of Albert and Anna, Silverman and Ribisi steal the show with their comedy. Ruth works as a prostitute by day and remains virtuous with her virginal boyfriend by night. Edward is a hopeless romantic who is convinced that good Christians should wait until their wedding night, but understands that Anna needs to earn a living.
MacFarlane starred in, wrote, directed and produced the film, which is loosely based on a joke that he shared with his fellow producers, Alec Sulkin and Wellesley Wild. Although many people believe the Wild West was a romantic, adventurous time thanks to the many cowboy movies of the 1950s and '60s, they felt there were too many ways to die back in the late 1800s, making it a dangerous time to live.
The Blu-ray is packed with added features, including a gag-reel, alternate opening and ending, and deleted, extended and alternate scenes. Viewers are also treated to an unrated commentary by MacFarlane and an unrated feature that was not previewed in theaters – be prepared for a lot more cursing and a bit more vulgarity.
See if you can spot Ryan Reynolds, Jamie Foxx and Kaley Cuoco-Sweeting, who make uncredited cameos in the film. Other films releasing for home entertainment today include: Are You Here, Edge of Tomorrow, Exil, Million Dollar Arm,Obvious Child, To Be Takei, Tracks and the TV series Bates Motel: The Complete Second Season. ~Nadira Chand