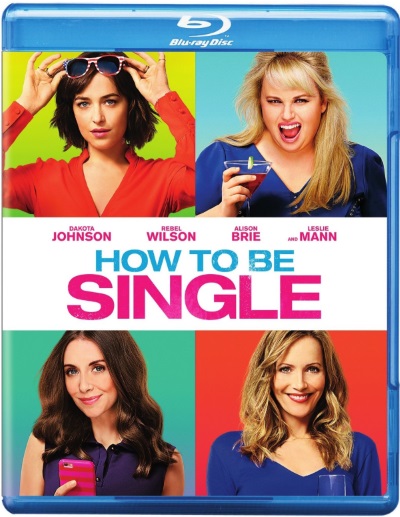 How to Be Single is not a quick guide on how to enjoy the single life of casual dating… and mating. It's about how to accept the fact that being single is not a death sentence; it's about learning to be happy despite being single.
The film strings together different types of singles you're most likely to encounter. First, there's the one who's always been in a relationship – Alice (Dakota Johnson). After being in a relationship for four years with Josh, she decides she wants a break to see what it's like living on her own and to experience single life.
When Alice moves to NYC, she meets our second type of single lady, Robin (Rebel Wilson), who takes the phrase "city that never sleeps" to heart as she bar hops all night and enjoys her quite forgettable one-night stands. She shows newbie Alice how to party hard and how to get guys to buy her drinks (which turns out to be harder than it looks).
Alice lives with her older sister Meg (Leslie Mann) – cue our type 3 single. Meg is content being a single successful midwife and doesn't need a man nor a baby to fulfill her – that is, until an "evil baby" overloaded with cuteness changes her mind. She decides to get pregnant despite not having a man in her life.
Another single is Lucy (Alison Brie) – the type-A personality who is statistically calculating her odds of finding a match in NYC. She lives above Tom's bar and uses the bar to meet terrible blind dates. She's a headstrong single lady who is actively looking for a partner, rather than casual hookups.
The writers carefully weave together these different types of single women and their escapades as they navigate the single-and-searching NYC scene. The movie doesn't judge or mock them. Each one is struggling through some sort of dating dilemma and we empathize with their good and bad choices in men.
However, it's not just single ladies in question here. The men who enter their lives propose other types of singles – brokenhearted single dad David (Damon Wayans Jr.) who has still not moved on or the commitment-phobic Tom, or the not-too-ambitious Ken who gives his all to a relationship with Meg, where age and the fact that she's carrying someone else's baby, isn't a deal breaker for him.
Dakota Johnson has got the doe-eyed looks to pull off her role as the young and curious 20-something who wants to experience it all. However, she doesn't particularly stand out. For her part, Leslie Mann was downright hilarious and probably had one of the better story lines in the film. Leslie was spot-on as the happy and successful career woman and she carried it out to the tee, adding much needed humor along the way. I was a bit disappointed with Rebel's performance because we've seen her do so much better in films such as Pitch Perfect and Bridesmaids. Her humor sometimes made me laugh out loud and sometimes, well, it earned a face palm.
The film paints a funny and light picture of the current dating phenomenon that millennials are facing and proposes a seriously simple solution: you can be single and happy forever. Just kidding, you simply enjoy the single moment when it does happen.~Marriska Fernandes
Blu-ray features include The Pros and Cons of How to Be Single, Rebel Rabble: A Look at Rebel Wilson, The Best Idea Wins! The Humor of How to Be Single, Rebel Wilson Outtakes, Deleted Scenes and Gag Reel.
Have you seen rom-com How to Be Single? We'd like to know what you think. Click here to write your review.