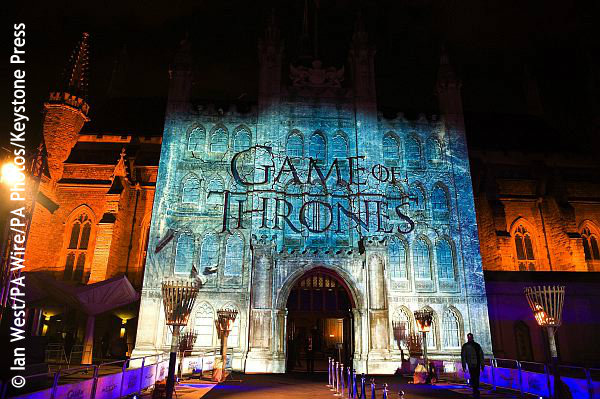 Fans are eagerly counting the days until the fifth season of HBO's most popular series Game of Thrones debuts.
This season, show creators David Benioff and Dan Weiss will draw heavily  from the fourth and fifth novels in George R.R. Martin's Song of Ice and Fire saga: A Feast for Crows and A Dance with Dragons.
The official trailer, which is set to a version of David Bowie's hit Heroes, reveals a few hints about the upcoming season, including a potential tagline, "Justice has a price."
We catch a glimpse of Littlefinger (Aidan Gillen) encouraging Sansa (Sophie Turner) to seek vengeance, Ser Jorah is back and seemed to be in a battle for his life against an armored opponent wielding a spear, and we get a first look at the Sand Snakes of Dorne.
Are those wedding bells? A clip showing Margaery Tyrell standing on the steps where she said, "I do" to Joffrey, is seen in the trailer but this time, she is standing next to his little brother.
Wait! There's more. The trailer has Lord Varys urging Tyrion (Peter Dinklage) to help seat a more favorable ruler on the throne and not a "him." That clip is preceded by a shot of Daenerys (Emilia Clarke), warning, "I'm not going to stop the wheel, I'm going to break the wheel."
Season five premieres April 12 on HBO.
Game of Thrones Season 5: Trailer