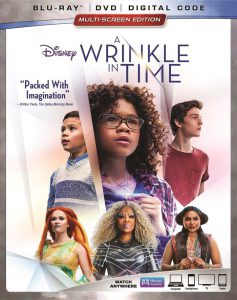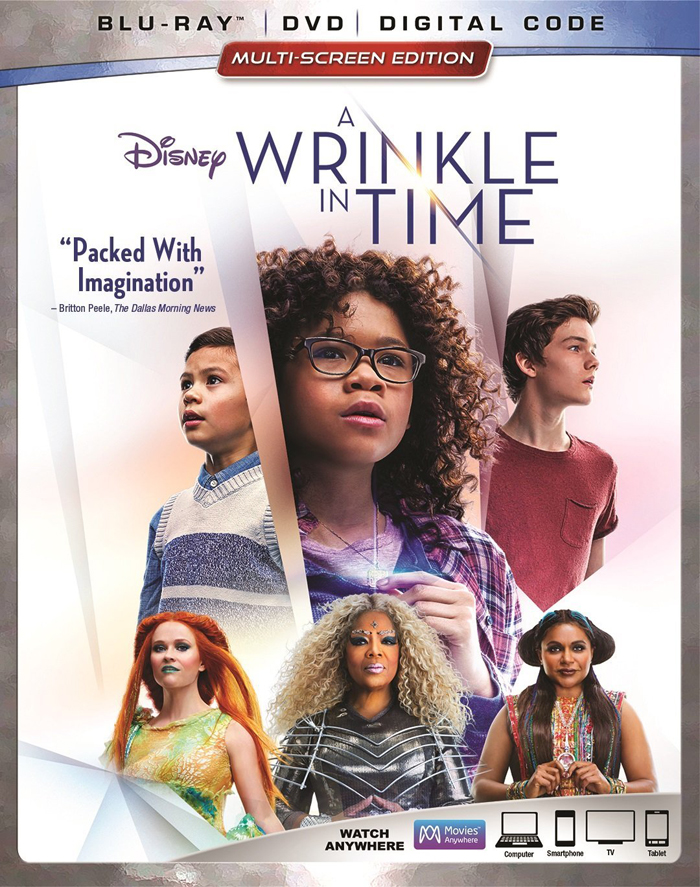 Based on Madeleine L'Engle's visionary 1962 novel of the same name, A Wrinkle in Time tells the fantastical story of a young girl named Meg Murry (Storm Reid) who must embark on an interdimensional journey to find her missing father, Dr. Alexander Murry (Chris Pine). Along the way, Meg has to fight to overcome personal doubts and insecurities in order to defeat the evil forces that separate her and her galactically estranged father, who became stranded after attempting interplanetary teleportation.
Meg is not alone on her daunting astral travels. Along for the ride is her six-year-old brother, Charles Wallace (Deric McCabe), a precocious boy who sees the best in everyone and believes in the genius of his missing father so passionately that he'll stand up to anyone who dares to disparage his name. Joining them is Calvin (Levi Miller), a popular boy at Meg's school who finds the quiet girl endearing despite her social shortcomings.
The three children are aided in their journey by three celestial beings known as the Mrs. Ws — Mrs. Whatsit (Reese Witherspoon), Mrs. Who (Mindy Kaling) and, most powerful of them all, Mrs. Which (Oprah Winfrey). The women teach the children how to "tesser" between dimensions, allowing them to travel between time and space to search for Dr. Murry.
One of the messages A Wrinkle in Time offers its viewers is that differences and faults must be celebrated, not criticized. Meg spends a great deal of the film agonizing over her inabilities and doubting herself, which makes "tessering" nearly a torturous mode of travel for her. She's consistently the only one of the three children who feels the painful effects of the act. Years of bullying in school have left her insecure and stubborn and she struggles to conquer this.
Throughout the film we're also treated to all the excitement and fascination that comes with the children's interdimensional tourism. Some planets are visually stunning while others are more extraordinary in their purpose, such as the planet where The Happy Medium (Zach Galifianakis) resides. Here, the offbeat and hilarious hermit introduces the children to the movie's main antagonist, known as IT, a malevolent entity made up of branch-like tentacles, that represents all the greed, anger, pride, selfishness and low self-esteem that exists in the universe.
Director Ava DuVernay deserves praise for her artistic vision, which explodes from the screen with each landscape and captures the audience's attention. But while the highly anticipated film was quite visually satisfying, it fell short in delivering the same imagination and adolescent narrative that L'Engle's novel provided, favoring style over substance.
At times, it is difficult to follow the pace of the storyline, as everything moves quickly in an effort to fit an entire novel into 109 minutes of film. Personal motivation and character development are glossed over, so the story can charge ahead. Even the main character of Meg cannot seem to establish herself as the lead. She's consistently overshadowed by the other characters in the scene, most prominently in any scene that features the Mrs. Ws. The boys do not get much more development either, particularly Calvin who randomly appears at Meg's home one day and decides to accompany the children on this adventure without questioning any aspect of it along the way.
There's also never any sort of explanation given for how such a phenomenon as a "tesseract" that vibrates on the same frequency as love can be possible, which makes the movie seem more far-fetched than fantastical. Its science-fiction predecessors all understand that in order for their movies to be believable, they need to have technology that seems plausible in some realm of human ability. This "tesseract" came off as more of an easy plot device.
Where the film really loses its audiences is in what is meant to be an emotional climax. Meg is reunited with her father but must face a surprising opponent in order to bring him home. While interesting in theory, the execution of this ending is not as well done as it could have been, and its message of love defeating evil is lost to a suspenseless payoff.
The film's target audience is essentially children and preteens. Anyone older may find it difficult to relate to the adolescent themes or find enjoyment in its campy, unrealistic dialogue.
Visually, the film is a slam dunk. But while it provides us with such a diverse all-star lineup like Oprah Winfrey, Reese Witherspoon and Chris Pine, it simply cannot make up for its unfocused story and lack of an exciting climax. ~Caitlyn Clancey
Blu-ray bonus features:
Bloopers
Deleted Scenes
Audio Commentary
Music Videos – "I Believe" by DJ Khaled (featuring Demi Lovato), "Warrior" by Chloe x Halle
A Journey Through Time – Director Ava DuVernay is joined by Oprah Winfrey and other members of the cast and crew to offer an in-depth look into how they took the classic story of A Wrinkle in Time from the pages of Madeleine L'Engle's novel and brought it to the silver screen in this feature film adaptation. Topics discussed include DuVernay's decision to have a diverse cast, the women behind the celestial Mrs. Ws, the film's eccentric wardrobe, the sets, the stunts and much more.