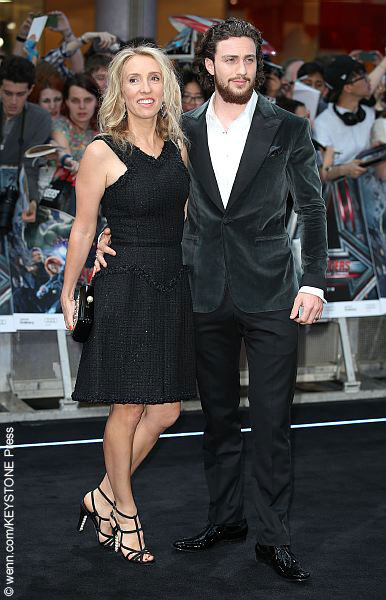 Aaron Taylor-Johnson, 24, who plays Quicksilver in the much anticipated Avengers: Age of Ultron, talked about his relationship with wife Sam Taylor-Johnson, 48.
However, the difference in their ages is not a topic Aaron, who turns 25 in June, likes to talk about, saying, "I don't engage with [talk about the age gap]. At an early age when I saw articles, it just f—ed me up … What does it even f—ing matter about our age? I never noticed it when we fell in love with each other. And I don't notice it now … We just instinctively gel … People who know me call me Benjamin Button – they think I'm an old soul and she's a young soul," he told British newspaper The Times.
He goes on to say, "I met Sam and I knew I wanted to be with her. And it got clearer, each step…I wanted kids, we had kids and I was really into that, taking time off and involving myself in the bubble of her pregnancy. Being a father has been the happiest time of my life – it's what I live for, what I love doing – I have a real reason why I'm here, I'm not as proud of my acting; it's a job that I do … I'm grateful, but I don't live for acting."
The couple met in 2009 on set of Nowhere Boy. Engaged in 2010 and married in 2012, they have two daughters together and Aaron is also the stepfather of the Fifty Shades of Grey director's two children from a previous marriage.
The pair have been seen hand in hand on the red carpet as they attend premieres and promote Avengers: Age of Ultron. ~Erin Stewart