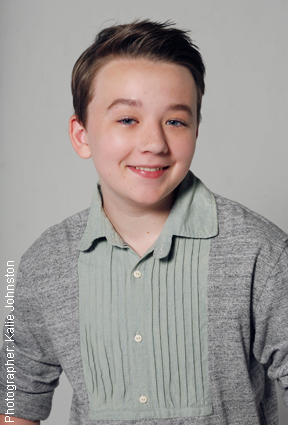 Benjamin Stockham, 14, plays Marcus on the NBC-TV sitcom About a Boy, which is based on the 2002 movie starring Hugh Grant as Will. The series is somewhat different (it's set in San Francisco) and has been modernized (for instance, Marcus doesn't sing "Killing Me Softly" in front of his school, he instead opts for One Direction's "You Don't Know You're Beautiful," which earns him just as much derision). Will, played by David Walton, is a bit more of a playboy, but he's extremely likeable, while Marcus' mother, Fiona, played by Minnie Driver, isn't clinically depressed this time around — just eccentric.
Marcus and Fiona live next door to Will and in a funny turn of events, Marcus discovers a dumbwaiter that allows him direct access to Will's place, so he can pop in at inopportune moments. At the end of the first season, which was just 13 episodes and is now available on DVD. The series has been renewed for a second season, which debuts October 14 on Global.
Tribute had the pleasure of talking to Benjamin — who's as funny and adorable as the character he plays — about the upcoming season, which he's currently filming. ~Alexandra Heilbron
I really enjoyed this show and I was wishing there were more episodes. Will the second season have more than the first?
Yes, it has a smackle-doodle of 22 episodes!
When the first season ended with Will moving to be with his girlfriend (Sam), I was afraid there wouldn't be a second season. Does Will come back?
Well, Will's in New York and Marcus and Fiona and everybody, they sort of have to move on. Like, they just have to accept that Will isn't just going to be there anymore.  But then there's a bit of a problem in San Francisco that Will needs to take care of.
Can I ask for spoilers?
I mean, as long as you don't disclose any of this top secret information…
(Laughing) Okay, so does he bring his girlfriend back? Or do they break up?
Well, no. He goes to San Francisco to fix the problem. Dr. Sam stays in New York. You see, the problem is he gets a royalty check for zero dollars and zero cents. So he has to figure out what's wrong. And, I mean his stay is only temporary. Or is it?
Hmm, okay. I can't wait to see it. So, this is your third TV series — you must feel very comfortable in front of a camera!
I mean, as comfortable as one can be. There's always that like, little tinge of fear but, you know. Pretty comfortable.
(Laughing) Okay. Is this filmed in front of an audience?
No, it's a single camera.
How many months does it take to film an entire season?
Five.
What's it like being the only kid on the set?
Well, alright. Just gonna get real with you here. It can get a little bit lonely at times. But, that's okay because they have definitely written kids into the script before, they've done it again, again and again. And I am very fond of my co-stars. So, there's not much to worry about, but it is nice having somebody my age on set.
Tell me about your co-stars, what are they like?
Well, David is as you'd imagine is very funny. And, he's very humble. He's really something to behold. And Minnie is just great. Minnie's very motherly in a way. Which is unsurprising, because she's a mother. But, you know, that motherly vibe.
That must help you keep in character.
Yeah, actually it does.
How old were you when you started acting and how did that happen?
I was watching TV one day and was just like "I want to do that. Mom, can I do that?" And, well, we got an agent. It took a while, but I booked my first job at seven and it was truly spectacular. There's really nothing like it, it's a great feeling. Then I got my the first TV series, Sons of Tucson, when I was nine.
What did you have to do for your original audition?
Wow, that's a long time ago. I just remember like, being probably the shortest kid in the room. Because I'm a short person. But all I really had to do for their audition process was read this script that's not like the real script. It's basically just to show that you can sort of get the part down, get the vibe.
Did you have to do a lot of callbacks?
Yeah, it's pretty much just a normal audition process. You get called in, you get called back, you go to producers, then you go to network. And then it's all like… drumroll… And then, it's really just wait and see. It's really great when you get that call. Like, yeah you got it!
How do you learn your lines? Is it difficult?
Honestly, there's no real way to explain how I do it, but I just have to read it over three to four times. Then, I do it without the script and see if I can remember it all. If I can't, I go back, look at it, then rinse and repeat until I get it.
Do you do that all on your own? Or do you have somebody help you with it?
I mean, sometimes I have my mom help me with it, but most of the time I get into an undistracting area and just focus on it.
What are the similarities between you and Marcus?
Alright, well, other than the devilishly handsome good looks… (laughing) Come on, let's be honest. Uh, well, similarities between me and Marcus… We're not really that similar. But, I guess well, just maybe innocence. I'm still very naïve when it comes to the world, as is Marcus. I think I know everything, but I don't. I definitely don't. But, yeah, maybe like naïve-ness… is that a word? Well, maybe it's a word. And of course, the love of my mother. I love her, dearly.
You just finished filming a movie in Ontario, can you tell us about that?
Well, it's a movie called Lost and Found and I play Mark Walton. It's basically an adventure movie, you know it's a little bit, sort of like The Goonies, kind of, not like really though. We're searching for this treasure, but the whole time, the treasure was something that you would not have expected. It's a good movie. I was honored to have worked on it.
Where in Ontario was it filmed?
Sault Ste. Marie.
Justin Kelley from The Latest Buzz and DeGrassi played your older brother, right?
Yes, he did. I loved working with Justin and Celeste Desjardins, they are both super nice and really, really talented.
How did you like being in Canada?
I liked it a lot actually. It's very very pretty. I really like the scenery, it's something to behold.
When you go out of town, who goes with you? Who is your guardian on set?
My guardian is my lovely mother, and she pretty much does everything with me. She's like my travel buddy and my mother, all in one.
One last question, what do you like to do in your spare time?
I like to draw, and hang with my friends and swim, and ride a bike. And that's it, that's all.
About a Boy debuts on NBC-TV and Global TV October 14 and continues weekly through to Spring 2015.