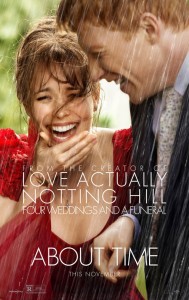 Romantics can swoon over Richard Curtis' latest film, About Time, which is a sweet, sappy and sentimental film that will leave you smiling. Yes, Richard Curtis,  the man behind several other classic romantic films like Love Actually, Notting Hill and Four Weddings and a Funeral brings you yet another emotionally captivating film that you'll want to watch over and over again. The film follows Tim, played by Domhnall Gleeson, who has a close relationship with his family, especially with his dad. The family has quaint traditions, like drinking tea every day on the beach outside their English countryside house no matter what the weather. On his 21st birthday, Tim learns about the gift the men in his family have inherited:time travel. He is guided by his dad (Bill Nighy), who advises Tim that using this gift for winning the lottery is not the way to go. Romantic-at-heart Tim decides to use the gift to help him find love. It doesn't always work though, as he finds quite hilariously, that no matter what he does, he can't make his first love Charlotte, played by Margot Robbie, have feeling for him.
Tim moves to London to take up a job as a lawyer and six months later he meets the love of his life. Being a Richard Curtis film, the couple's first meeting is quite adorable. He goes to a restaurant with a friend where the idea is to eat and have conversations with people in the dark. He starts a conversation with quiet and dorky Mary, played by Rachel McAdams. He hasn't even seen her but the chemistry is evident between the two. He makes a date to meet up with her later, but things go awry when his landlord needs help and he has to go back in time to fix things for him. This means Mary doesn't meet him at the restaurant after all, so Tim has to figure out how to use time travel to meet her at another time.
Richard Curtis couldn't have the made the movie more perfect, adding a sprinkle of drama, a spoonful of romance and a dash of humor. I was completely smitten with the adorable couple's undeniable chemistry. This movie simply uses time travel to tell a love story and deliver a simple message about life and relationships. Domnhall Gleeson masters the character of a love-struck young man who is determined to make his relationship work. For her part, Rachel McAdams, as usual,  wins our hearts with her spot-on charm and elegance. With Valentine's day around the corner, this is the film to watch with your better half.
Bonus features available exclusively on Blu-ray include: About Tim and Time Travel, The Look – Style and Locations and The World of Richard Curtis. Bonus features on Blu-ray and DVD include: Deleted Scenes, Blooper Reel, The "Luckiest" Music, Ellie Goulding Music Video and a Feature Commentary with Director Richard Curtis and Cast Members. ~Marriska Fernandes