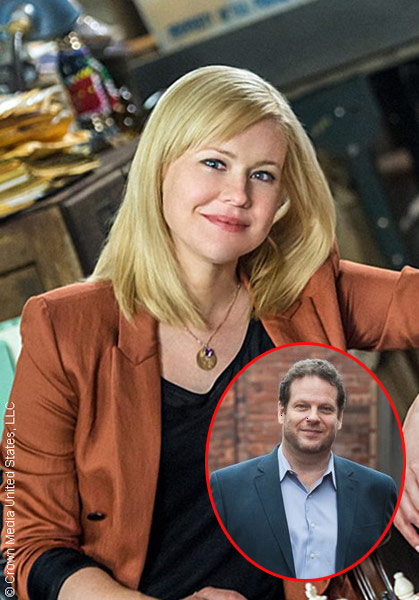 Albert Schultz, co-founder of the Toronto Soulpepper Theatre Company, has stepped down from his post as Artistic Director following allegations of sexual misconduct. Four actresses have filed civil suits against the 54-year-old actor/producer, who most recently can be seen playing Grace's lawyer on the TV series Alias Grace, and who is one of the executive producers of the sitcom Kim's Convenience.
Kristin Booth (pictured at left, with Schultz in inset photo), Hannah Miller, Patricia Fagan and Diana Bentley filed civil suits this week against Schultz and Soulpepper Theatre Company, saying Schultz sexually assaulted and harrassed them during their careers with Soulpepper. Their lawyer, Tatha Swann, said the women "faced constant sexual harassment, groping and unwanted touching at the hands of a serial sexual predator and bully. Soulpepper failed to protect them and failed to provide a safe work environment."
Kristin Booth said during the conference, "I did not bring these claims against Albert and Soulpepper lightly. But I did it now and I would do it again because there is a window of opportunity open for women like myself, Diana, Trish and Hannah and all the other women that we have heard from that have suffered at Albert's hands and others like him."
Hannah Miller also spoke, adding, "Soulpepper as it is, is not a safe environment."
Two of the theatre company's co-founders — Ted Dykstra and Stuart Hughes — who are well known in the theatre community and on Canadian television, have stepped down in solidarity with the four women who have launched suits against Schultz. Schultz's second wife, Leslie Lester, who also works as the company's executive director, also volunteered to step down.
Soulpepper was founded in 1998 by Schultz, his then-wife Susan Coyne, Dykstra, Hughes, Diana Leblanc, Diego Matamoros, Joseph Ziegler, Martha Burns, Michael Hanrahan, Nancy Palk, Robyn Steven, and William Webster. It's billed as Toronto's largest not-for-profit theatre company and North America's only year-round repertory company. ~Alexandra Heilbron