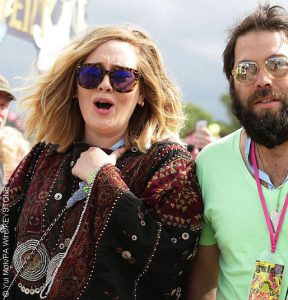 Congratulations are in order — Adele has tied the knot!
The Grammy award-winning singer has officially announced that she and her longtime love, Simon Konecki (pictured at left), are married.
She shared the big news while chatting to the audience between songs at her concert in Brisbane, Australia on Saturday (March 4).
Adele was talking about the meaning behind her hit song, "Someone Like You," an emotional ballad about heartbreak. She told the crowd that she's "addicted" to the "feeling when you first fall for someone." She then added that she can't have that feeling anymore, because she's "married now."
The songstress had recently hinted about her "upcoming" nuptials. Last month, during her acceptance speech after her win for Album of the Year at the Grammys, Adele tearfully thanked her "husband."
Adele and Simon have been together since 2012 and have a four-year-old son, Angelo. ~Ashleen Grange