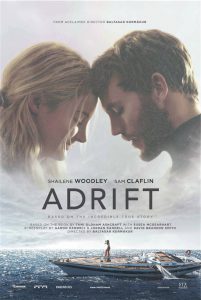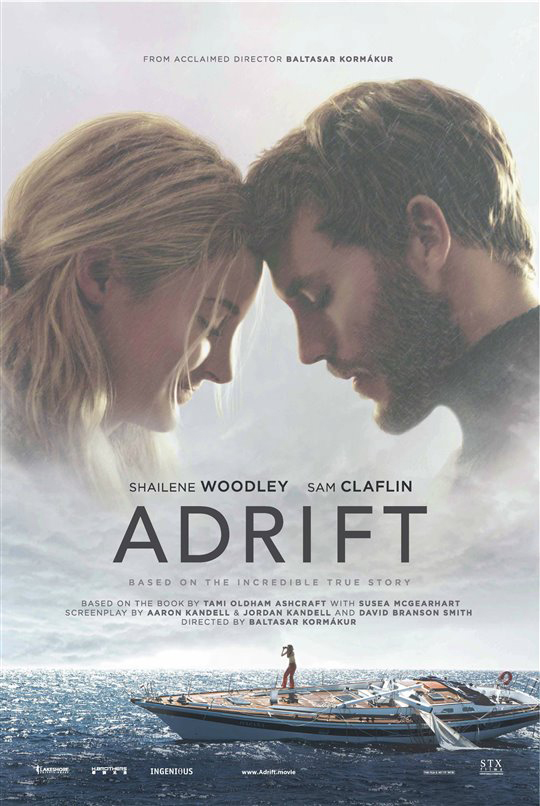 Embarking on a romantic sailing adventure across the Pacific Ocean sounds like the perfect premise for a romantic movie. But what happens when that sailing adventure happens to cross paths with one of the most catastrophic hurricanes in history?
Well, you get an incredible action/adventure movie instead.
Adrift takes its audience for a perilous ride as it chronicles the true story of one woman's harrowing fight for survival after a hurricane has devastated the sailboat she and her boyfriend were travelling on across the Pacific.
Juxtaposing the highs of a blossoming relationship against the desolation of being stranded in the middle of the ocean, Adrift delivers the true story of a couple who must fight for their survival against all the odds.
The film begins mere hours after the fateful hurricane has wrecked the sailboat Richard (Sam Claflin) and his girlfriend Tami (Shailene Woodley) have been tasked with sailing from Tahiti to California. Knocked unconscious, Tami wakes up alone and injured below deck. She struggles to understand what's happened while desperately searching for Richard, who's nowhere to be seen.
Right away, the audience is treated to their first taste of the heart-pounding uncertainty the movie will continue to provide in greater and greater dosages as it goes on. Tami stands alone on a sinking sailboat in the middle of an ocean, thousands of miles from land with only very limited sailing skills to rely on. She's lost her boyfriend and navigator, Richard, and must somehow attempt to work with the same waters that stranded her in order to sail herself to safety. The magnitude of the hopelessness this situation evokes is tremendous and immediately commands the audience's attention.
Tami eventually finds Richard floating in the ocean, but he's too injured to take control of the boat. She must then assume the responsibility of navigating the large, empty expanse of ocean waters while also trying to keep them both alive.
As the movie progresses, we're treated to flashbacks between the past and present, contrasting the current disaster with the way in which Tami and Richard met and subsequently fell in love. The result is a gripping and emotional journey, providing a beautiful love story that is interwoven between disaster and the threat of death.
The 41-day ordeal is told entirely from Tami's perspective. Divergent actress Shailene Woodley gives a commanding performance in the lead role and delivers the perfect amount of emotion necessary for her portrayal of a woman who is exhausted, dehydrated, and delirious, but determined to save herself and her boyfriend.
Sam Claflin, whose performance following the hurricane is largely limited to lying injured on the boat, charms audiences in flashbacks through his character Richard, as his romance with Tami deepens and intensifies. He's equal parts leading man and voice of reason as he helps keep Tami motivated during her inspirational and heartbreaking tribulations on the water.
The chemistry between Woodley and Clafin draws viewers into their whirlwind relationship. The two are able to generate a heartwarming love story between them, which definitely adds to the suspense felt later as we witness them combat a hurricane together.
Director Baltasar Kormákur delivers the same suspense and action you would expect from the man behind the action-adventure drama Everest. He knows exactly how to keep audiences perched precariously on the edge of their seats with anticipation, only to then rock them with a visually stunning and simultaneously terrifying disaster sequence. The hurricane scene in this film is simply amazing and devastating in its destruction.
Overall, Adrift was a tremendous film, overflowing with romance, drama and lots of suspense to satisfy all tastes.
The most crucial thing to remember while watching this movie is that this is based on a true story. Appreciation for the film is only greatened when you realize real people endured these same, terrifying circumstances — 40-foot waves included.
If you want to be dazzled by a beautiful love story and then left breathless by its accompanying tale of heroic, oceanic survival, you'll definitely find all this and more in Adrift. ~Caitlyn Clancey
If you have seen Adrift and would like to rate/review it yourself, click here.