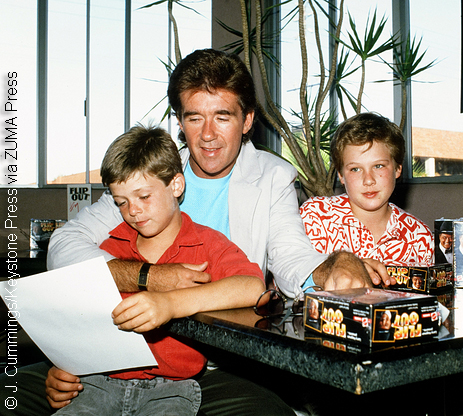 When Alan Thicke passed away in December of a sudden heart attack, he left behind specific instructions as to who would get control of his estate. Unfortunately, it looks like things are going to get a little messy, because a bitter family feud is starting to boil over the who gets what.
Alan was married at the time of his death to third wife, Tanya Callau. Although they didn't have any children together, the late singer does have three sons: Brennan and Robin (from his first marriage to soap star Gloria Loring), and Carter (from his second marriage).
Robin and Brennan Thicke filed the lawsuit in Los Angeles Superior Court after Tanya claimed the prenuptial agreement she signed in 2005 before marrying the late actor is not valid.
It has been reported that Alan left his three sons ownership of his California Ranch, because he wanted to keep it in the family. He purchased the home in 1989 and the kids spent some time growing up there. He also left his sons "75 percent of his personal effects and 60 percent of his remaining estate."
However, he didn't necessarily leave his wife empty handed either. She received a generous amount, including the ranch's furnishings, 25 percent of his personal effects, $500,000 from his life insurance policy, and all benefits from his various pensions and union memberships. The remaining 40 percent of his estate was also left in her name.
"Now that Alan is dead, Tanya claims there are numerous problems with the Trust and the Prenuptial Agreement," wrote Thicke attorney Alex Weingarten in the lawsuit. "Tanya also claims 'Marvin rights' asserting that she had to forego opportunities to pursue and advance her own career in order to support Alan and be his companion and partner, including raising Carter."
Weingarten wrote that Tanya has made threats to bash the brothers in the tabloids, and draw bad publicity to their name unless they agreed to succumb to her demands. Robin Thicke is of course, famous in his own right as the singer behind the hit song "Blurred Lines."
Tanya's attorney, Adam Streisand, has denied the claims, telling Variety: "Tanya did not threaten to go to the press. To the contrary, she said a court battle would attract the tabloid media, which she did not want, and so she encouraged everyone to get together for a family mediation to figure it all out. They refused. Repeatedly. So ask yourself, who is it that is planting stories in the press and filing lawsuits, and that's where you'll find the real culprits."
Alan Thicke passed away unexpectedly at the age of 69, after one of his arteries ruptured while playing hockey with his youngest son, Carter. ~Brenden Zerihun