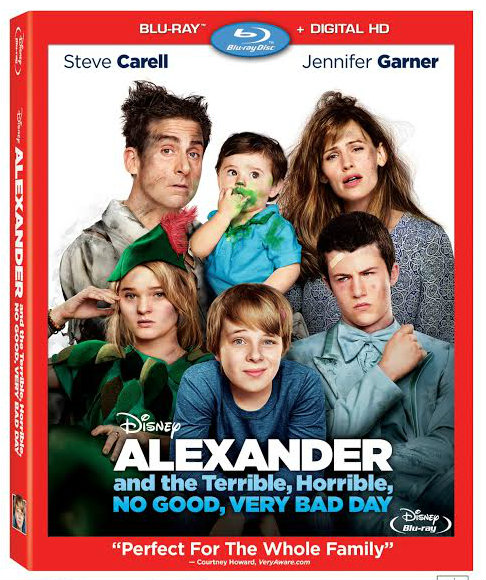 It's the day before his twelfth birthday and Alexander (Ed Oxenbould) is having the worst day of his young life – a day that begins with gum stuck in his hair, followed by tripping face first in front of his "crush," embarrassing photoshopped pictures of him are texted to the entire school and he accidentally starts a fire in class.
When Alexander tells his upbeat family about his horrible day, he finds that they're all having nothing but good luck and he begins to think bad things happen only to him.
Before he goes to sleep that night, Alexander makes a wish that his family could experience a bad day just like he does every day so that they can understand what he goes through.
His wish seems to come true the next morning when his Mom (Jennifer Garner), Dad (Steve Carell), brother (Dylan Minnette) and sister (Kerris Dorsey) all find themselves living through their own terrible, horrible, no good, very bad day.
It begins with the family sleeping in on a day of important events and goes downhill from there. Mom has a work-related disaster that involves Dick van Dyke. Dad's babysitter is a no-show and he has to take the youngest child to a job interview at a really cool, very young workplace. Alexander's dramatic sister Emily, who is just about to make her school stage debut as Peter Pan, comes down with a terrible cold and older brother Anthony wakes up the day of the prom with a huge zit on his face.  Anthony's driving test is one of the film's funniest scenes, with a hilarious Jennifer Coolidge as a conniving driving instructor.
Alexander is played by Australian actor Ed Oxenbould (who in the film is obsessed with the country of Australia). He's a delight to watch and you'll find yourself rooting for him right from the start.
Steve Carell and Jennifer Garner have great chemistry onscreen as the optimistic parents who seem to be overly-calm and under-stressed for a couple with four kids (a toddler, two tweens and a teenager), despite the fact that Dad is out of work and Mom works in a high pressure publishing job. Megan Mullally has a small role as Garner's boss where she definitely channels shades of her character Karen Walker from Will & Grace.
Based on the well-known children's novel by Judith Viorst, Alexander and the Terrible, Horrible, No-Good, Very Bad Day is a fun family comedy flick that moviegoers of all ages will enjoy.
Bonus features and Blu-ray exclusives include: Bloopers, Snappy Crocs and Punchy Roos: The Australian Outback Yard Party, a Walkabout video diary with star Ed Oxenbould on a behind-the-scenes adventure, the music video "Hurricane" by The Vamps and Alexander… in Real Life, in which author Judith Viorst and her son, the real life Alexander, share the story behind the book and its impact on their lives.
Other movies out on DVD this week include the comedy Dear White People; the thrillers The Devil's Hand, Nightcrawler and Predestination; and the dramas Rosewater, Force Majeure and Laggies. Click here for a full list of new DVD releases. ~Suzanne Coolen