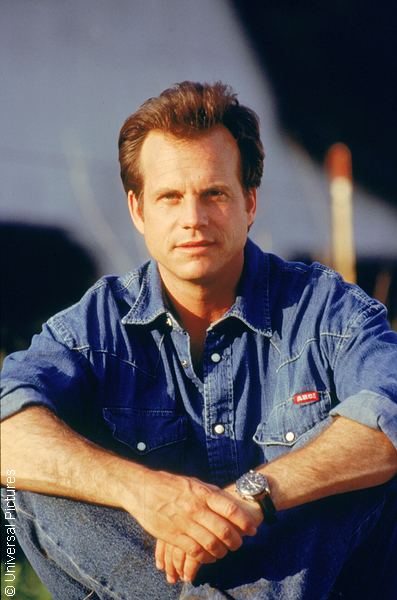 One of Hollywood's most versatile veteran actors, Bill Paxton, has tragically passed away at the age of 61. Paxton, who had notable roles in films such as Aliens, The Terminator, Twister and Apollo 13, died yesterday (Feb. 25) of a stroke following heart surgery. A statement from a Paxton family representative reads:
"It is with heavy hearts we share the news that Bill Paxton has passed away due to complications from surgery. A loving husband and father, Bill began his career in Hollywood working on films in the art department and went on to have an illustrious career spanning four decades as a beloved and prolific actor and filmmaker. Bill's passion for the arts was felt by all who knew him, and his warmth and tireless energy were undeniable. We ask to please respect the family's wish for privacy as they mourn the loss of their adored husband and father."
Indeed, Bill Paxton has been a mainstay in the film industry, as both a successful actor and director, helming films such as 2001's Frailty, which was nominated for a Saturn Award by the Academy of Science Fiction, Fantasy & Horror Films, and 2005's The Greatest Game Ever Played, which was nominated for an award by the ESPYs (Excellence in Sports Performance Yearly) for Best Sports Movie.
But many fans affectionately know Paxton as the only man who had the opportunity to play characters that went head-to-head with some of the best creature villains in cinema, namely The Terminator's T-800, the Aliens' Alien, and Predator 2's Predator. Paxton later teamed up again with Arnold Schwarzenegger and director James Cameron in the quirky action flick True Lies.
Bill Paxton also had a lead role opposite Kurt Russell in the popular Western film Tombstone based on the Earp brothers, and starred opposite Tom Hanks in Apollo 13, for which he shared a 1996 SAG award for Outstanding Performance by a Cast. Perhaps one of the most recognized and successful films that Paxton was a part of was James Cameron's Titanic, in which he played the treasure hunter who found the safe containing the portrait of Rose.
More recently, Paxton dominated the small screen in HBO's seminal show Big Love, for which he was nominated for a Golden Globe award three times over the course of the series from 2007 to 2011 for Best Performance by an Actor in a Television Series – Drama.
Bill Paxton was certainly a friend and a respected member of the film industry as Twitter tributes from fellow actors keep flowing in, highlighting Paxton's talent and spirit:
Tom Hanks: "Bill Paxton was, simply, a wonderful man. A wonderful man… Hanx."
Arnold Schwarzenegger: "Bill Paxton could play any role, but he was best at being Bill – a great human being with a huge heart. My thoughts are with his family."
Rob Lowe: "Devastated by the sudden loss of my close friend and one of the finest actors in the business, Bill Paxton. Renaissance man, raconteur and uniquely American national treasure. His filmography speaks for itself. His friendship was a blessing. My love to Bunny, James and Lydia."
It seems undeniable that his passing is truly a huge loss for friends, fans and film alike. It is expected, though not yet confirmed, that he will be honored at some point during tonight's Academy Awards broadcast.
Paxton can posthumously be seen in the upcoming film The Circle when it's released on April 28, in which he plays the ailing father of one of the title characters, Mae, played by Emma Watson.
Paxton is survived by his wife of almost 30 years — Louise Newbury — and their two children, James and Lydia. ~Alexa Caruso