AMA nominees Shovels & Rope coming to Canada
By Alexandra Heilbron on September 5, 2013 | 5 Comments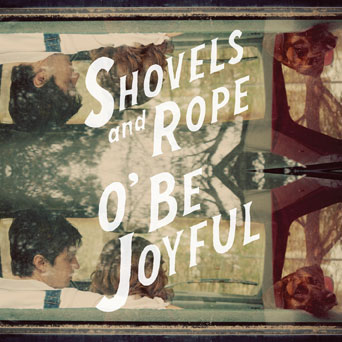 Cary Ann Hearst and Michael Trent formed the music duo Shovels & Rope in 2010 and their debut album O' Be Joyful, which was released in 2012, has propelled the folk-country band to earn four Americana Music Award (AMA) nominations this year, for Best Album, Best Song, Emerging Group of the Year, and Best Duo/Group. Shovels & Rope is getting well-deserved attention—their album has an amazing mix of country and folk, with some jazz and gospel influences. Audiences can't help but tap their toes during the uptempos and the ballads offer harmonies with beautifully blended vocals.
Cary Ann and Michael are often asked where they got the name for their group and they say it's from their "murder ballads" that feature some characters hanging and others doing the burying. This very unique couple is coming back to Canada to play two dates – this Friday (September 6) in Montreal at 8:00 p.m. at Petit Campus and Saturday (September 7) in Toronto at the Horseshoe Tavern. To download their new album at iTunes, please click here.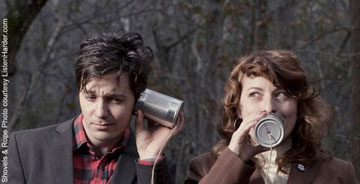 Congratulations on your four AMA nominations! Are you excited about attending the ceremony?
Michael: Yeah, definitely, it's going to be really cool. Cary was there last year and she sang a song that Hayes Carll wrote that she sang on the record so she's been there, done that.
Cary: Yeah, but I'm going to do it with you (both laugh).
How did you come up with the title for the album O' Be Joyful?
Cary: One Christmas a couple of years ago I had the flu real bad at Michael's parents' house, so I sat in the basement and I watched the Ken Burns documentary about the Civil War. In it they were talking about this homemade alcohol that was very intoxicating and even hallucinogenic and definitely highly toxic and they called it O' Be Joyful. They said it got people through the winter and kept them alive and somewhat motivated. It was kind of the Civil War version of Crystal Meth (laughs). And we named the record that because it had kind of a double meaning—it was the opposite of what it was. The record is optimistic and outgoing—O' Be Joyful—but has dark undertones and some dangerous murder ballads sprinkled in there. It seemed apropos.
Your songs are a blend of so many different types of music—I'm hearing country, folk, jazz, gospel and even a little bit of country rap.
Cary: (laughs) I've never really thought of it that way, but [one of the songs] is very much. Kemba's got a [sound] that's syncopated.
Who have been your musical influences?
Cary: Well, they're far and wide.
Michael: We like a lot of the old stuff and we like the new stuff too.
Cary: The songs we've been working on and writing, one of them is influenced by Fats Domino.
Michael: Probably the number one thing that we are influenced by as songwriters is great storytelling.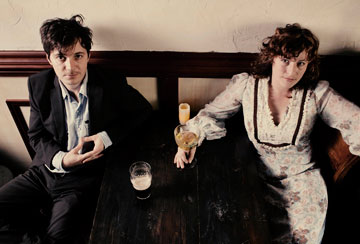 I saw a trailer for your upcoming documentary, The Ballad of Shovels & Rope, what can you tell us about that?
Cary: It kind of came to be before we really had a specific plan in place or even a record recorded. Friends of ours in Nashville took an interest in making a documentary about what would happen—we had no idea what would happen. They were able to follow us around for a couple of years and watch and film some of our efforts. So it's lucky for everybody it's worked out pretty good so far. Knock on wood that there's not some tragic ending. (laughs)
Cary, one of your singles from when you were a solo artist was played on an episode of True Blood, how did that come about?
A former manager somehow got the track on the deck of the person who picks up music for the show and I think I literally just got the luck of the draw. Could have been anybody.
I doubt that! You two, your music is amazing and it's great that you're coming back to Canada to perform. How do you like Canadian audiences?
Michael: They're great. We got to experience the East Coasters, the Mid Westerners and the West Coasters and it was all great. Something that was interesting though, was the people in the middle are particularly appreciative because I guess a lot of people skip the middle of Canada. It's kind of hard to tour through it because it's so big. People were psyched…
Cary: To give any old thing a try! (both laugh)
Michael: They were holding on a little bit longer at the end of a hug or something like that..
Aw, that's sweet! Do you find Canadian audiences are different from Americans in any way?
Cary: Well the old stereotype holds up. You guys have better manners in general (laughs) but what I love best about it is that wherever we show up regionally kind of matches up with you guys. So your East Coasters are kind of like our East Coasters, and your mid-Westerners are kind of like our mid-Westerners and same with Vancouver and Seattle and Portland all have a lot of common—kind of like, they could all be the same tribe of Indians. So I feel pretty good about it. I wish we had a little bit more of an open door policy between our countries, but I can understand why you want to keep the riff raff out. We're a tough race, us Americans (laughs).
As a couple, is it tough to work and travel together or is it really awesome?
Cary: It's both. It's mostly really easy to work together and when it's tiresome, it would be tiresome with anybody because it's the nature of our travels but I'd rather be stuck out here with Michael than with anybody else, so it works out great.
One last question, what's your favorite thing about performing live?
Michael: I feel like, the way that we do it, we try to make every show have its own life. They kind of do anyway, but we don't use set lists and we swap out who's going to play what on what song sometimes, just off the cuff. There's a lot of spontaneity that happens in our show that we can get away with because it's just the two of it. That's my favorite thing, is the spontaneous moments sometimes when you take a chance, and you might crash and burn but you make it out on the other side.

Thank you so much for talking with us today and we look forward to seeing you perform in Canada!
Shovels & Rope will be performing at Petit Campus at 57 Prince Arthur Street East in Montreal on Friday at 8 pm. (doors open at 7 p.m. – tickets are $20) and on Saturday at 10 p.m. (doors open at 9 p.m. – tickets are $16.50) at The Horseshoe Tavern at 370 Queen Street West.  ~Alexandra Heilbron
Update: Shovels & Rope won Emerging Artist of the Year and Song of the Year for Birmingham at the Americana Music Awards on September 17, 2013.
---
---
---
---