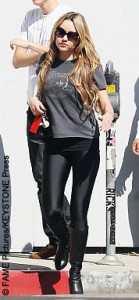 Troubled actress Amanda Bynes was arrested early Sunday morning in California on suspicion of driving under the influence. Amanda has been charged with a misdemeanor after police confirmed she was driving under the influence of a "controlled substance," E!News reports. Witnesses say the former Nickelodeon actress stopped for a red light in the middle of the intersection, prompting highway patrol to pull her over and have her do a number of sobriety tests. When Amanda failed each test, she was taken to CHP West Valley Office, where she was given a drug test that confirmed she was under the influence of a still unconfirmed substance.
Amanda has had a number of problems with the law in the past few years, including a 2012 DUI arrest, a charge for reckless endangerment as well as a string of outbursts on Twitter. Amanda hit her lowest in July 2013, when she was involuntarily put into psychiatric hold after setting a fire on her parents' neighbours driveway, and she was eventually transferred into a rehab facility.
Since her release from rehab in December 2013, Amanda enrolled in fashion school and reportedly made strides to improve her mental state. Her lawyer denied claims that the actress suffers from schizophrenia.
Amanda is set to appear in court on Oct. 23. She is currently on probation due to her previous DUI.