Amanda Seyfried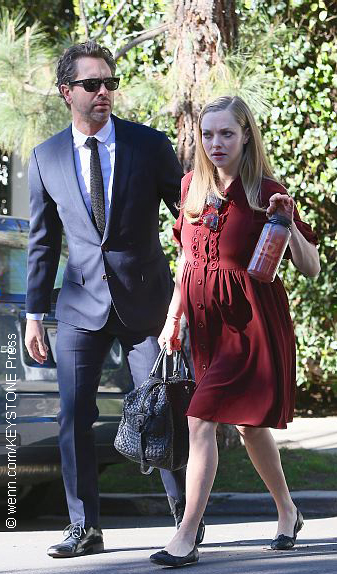 and fellow actor Thomas Sadoski have officially tied the knot, but their wedding was definitely without any Mama Mia!–style musical numbers.
During his appearance on The Late Late Show on Thursday (March 16), Thomas shared the news with host James Corden.
Showing off his new ring, the 40-year-old actor revealed the low-key couple eloped in a private ceremony. Thomas said they "just took off into the country with an officiant and just the two of us and we did our thing."
Amanda, who is pregnant with the pair's first child, also hinted at the announcement. The Les Misérables actress posted a sweet photo of her beau on Instagram with the caption, 'This nice man is going to be on @latelateshow tonight to talk about nice things!'
Thomas also told Corden that the ceremony was "beautiful" and "everything that it should be."
The newlyweds first met while starring together in the off-Broadway play The Way We Get By in 2015. Thomas and Amanda also co-starred again to film The Last Word last year.
In September, they announced they were engaged after six months of dating. Two months later, they also revealed they are expecting.
The secret wedding surprise comes just a few days after news broke that some of Amanda's private photos had been leaked online.
The actress' legal team has since provided a statement to TMZ, saying, "Several very private photographs of Ms. Seyfried either in various states of nudity or in intimate moments with her former boyfriend (the 'Seyfried Photographs') have been reproduced and posted."
The leaked photos are from when Amanda was with her ex Justin Long, whom she dated for two years.  ~Ashleen Grange